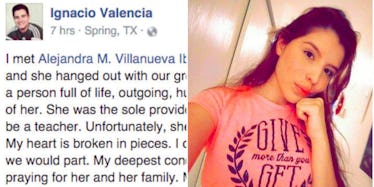 Man Reveals Horrifying Moment He Saw Friend Trampled To Death In FB Post
Facebook
A man has shared a heartbreaking Facebook post talking about the moment he saw his friend get trampled to death during the Mexico nightclub shooting.
Alejandra Villanueva Ibarra, of Denver, Colorado, was killed as people panicked when a gunman opened fire outside the Blue Parrot Nightclub in Playa del Carmen in the early hours of Monday morning -- killing five.
The 18-year-old was one of thousands who had descended upon the resort for the popular BPM music festival.
Ignacio Valencia had met Alejandra on the trip and paid tribute to her in an emotional post. He wrote,
I met Alejandra M. Villanueva Ibarra during the festival in Playa Del Carmen and she hanged out with our group of friends for the past three days. She was a person full of life, outgoing, humble, and had a promising bright future ahead of her. She was the sole provider for her family and was attending college to be a teacher.
Ignacio went on to describe the horror that unfolded before his eyes during the attack earlier this week. He explained,
Unfortunately, she passed away next to me during the shooting. My heart is broken in pieces. I could have never imagine this would be how we would part. My deepest condolences to her loved ones and we are all praying for her and her family. My you Rest In Peace Alejandra and I'm very fortunate I was able to meet you.
He urged people to donate to her family via a Go Fund Me page that has been set up in her name.
It was launched by her brother, Aaron Martinez, who said she "sustained a home of a single mother with two younger siblings due to my mom being very ill."
More than $2,000 of the $10,000 has already been raised.
Terrifying cell phone footage has since emerged of the attack.
It shows people cowering on the ground and fleeing the scene after shots were fired.
Citations: American teenager was trampled to death during Mexican nightclub shooting: Vacationing 18-year-old from Denver is named as one of five dead amid fears cartel wars have arrived in resort popular with Americans (DailyMail.com)