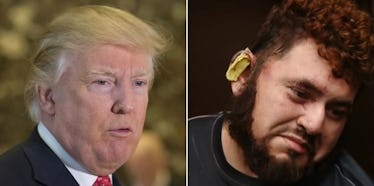 Man Bites Off Roommate's Ear In Fight Over Trump And The Video Is Disturbing
REX/ Shutterstock/ YouTube
Right now, I'm pretty sure most of the country (and the world) is on edge about President Donald Trump.
While some people are voicing their opinions through educated arguments on and off the web, others are taking their fear out in a more violent way.
Take Marco Ortiz's roommate, for example. He bit Ortiz's ear off during an alleged argument relating to the new POTUS.
According to CBS Pittsburgh, the debacle was born out of fear Ortiz's attacker would be sent back to Mexico.
The physical fight reportedly took place on Monday, January 23 around 6:45 am in Pittsburg, Pennsylvania, at an apartment Ortiz and his roommate share.
Apparently, the attacker bit off part of Ortiz's ear and then twisted his finger to the point where it felt like it was broken. Then, he threatened to kill him.
After the painful debacle, Ortiz ran to a gas station for help and attendants called the police. Authorities said he was taken to UPMC Presbyterian hospital after the bout.
Describing the horrific attack, Ortiz spoke about his enraged roommate and said,
Anytime he's drinking, he's going crazy. All he would say is 'If Donald Trump gonna take me out I gotta kill so many people, then somebody kill me and I am happy.'
This is truly terrifying. Thankfully, police were able to locate the piece of Ortiz's ear after in the duo's apartment.
During an interview with CBS Pittsburgh, the victim recalled the scary moments his roommate bit his ear off in a moment of intense fear and panic.
He said he saw "a little piece" fall onto the floor and then pointed out the bloodstains on his pants.
It has not been confirmed whether Ortiz supports Donald Trump or not, but it's very apparent his roommate is not happy about the new presidency.
His roommate's name has not been released by police, but apparently, they know who they're looking for. Once they find him, I bet he'll think twice about biting someone's ear off on Donald Trump's behalf... regardless of his fear of being sent back to Mexico.
Citations: Man Bit Roommate's Ear Off Out Of Fear Trump Would 'Send Him Back To Mexico' (CBS Pittsburgh)