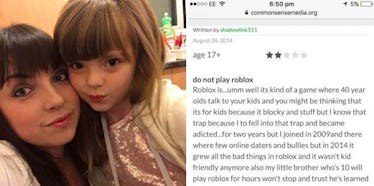 Mom Posts Creepy Texts When Man Asks 6-Year-Old To Call Him 'Daddy' In Game App
Facebook
It's becoming a reoccurring trend for pedophiles to reach young children through messages on internet games.
Why? Because they're able to disguise themselves behind the screen and contact kids who are too innocent to realize they're talking to adults who are up to no good.
Jemma Casey's 6-year-old daughter became victim to an online predator through a game called Roblox, but luckily, her mother intervened.
The Scotland-based mother was alarmed to find out the game her daughter was playing had a chat feature, and "loads" of people had been messaging her inappropriate things on it.
Upon discovering the disturbing messages, she penned a Facebook post to warn other parents about the dangers of the game. Casey noted that her daughter reached out to her and said someone called her "little pal," which sparked her curiosity.
In her post, she wrote,
Please please if your kids have an app called ROBLOX on their tablets/iPads/Xbox whatever DELETE IT! Morgan mentioned earlier that somebody messaged her earlier on it calling her a 'little pal' and inviting her somewhere.
She continued,
I did not realize in any way that this 'game' had a chat feature. After looking through the app and parental reviews I'm disgusted by what I've seen. Included are some pictures of what I found. It was me who replied to the chat not Morgan but there was loads of messages from random people. Please please delete it! I'm so so upset by it all.
In the screenshot of a conversation Casey shared, a man called Morgan "bae" and asked her to call her "daddy."
The 24-year-old recalled how she felt upon finding the chats sent to her daughter, and said,
I felt physically sick when I saw some of the messages she'd received. [...] I'm disgusted by what I've seen. It could be used for grooming by paedophiles and all sorts. The safety needs addressing.
Casey also shared reviews for the game along with a screenshot, which said Roblox had "lots of sexuality." People warned that it's "certainly not for any kid."
One review even confirmed the fact older men use the game to chat with children, and said,
Roblox is... umm well it's kind of a game where 40-year-olds talk to your kids and you might be thinking that it's for kids because it's blocky and stuff but I know that trap because I fell into that trap and became addicted.
Roblox has responded to the apparent flaws in the game and it making move to create a safer space for children who are playing it.
A spokesperson for the game stated,
This is a priority for us. We want all users to be safe on Roblox, and we will continue to invest in the safety of the game so it is a positive, productive, fun and protected space for our community.
Let's hope they keep their word, because until then, I don't think many parents will be allowing their children to play the game.
Citations: Girl, six, was sent a message on mobile gaming app Roblox asking her to call a stranger 'daddy' as mothers warn perverts are using the chat feature to lure children to their HOMES (MailOnline)