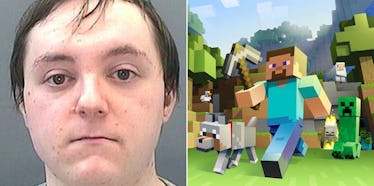 Pedophile Used Video Game To Bond With Kids Before Paying Them For Skype Sex
Police/ Microsoft
Adam Isaac, a 22-year-old internet pedophile, was sentenced to more than two years in prison after being found guilty of grooming underage boys for sex chats over Skype via Minecraft.
Throughout the duration of five months, Isaac initiated conversation with two boys, aged 12 and 14, while playing the computer game, MailOnline reports.
After virtually meeting his victims, Isaac became the group leader for a Minecraft group that included his victims and 18 other players.
Apparently, the sick-minded individual then began paying the underage boys money via PayPal before persuading them to have explicit sex chats with him over Skype.
The 12-year-old's father initially became suspicious of the internet pedophile when he realized his son was chatting with an adult over Skype.
His son also began asking his dad about his sex life, which triggered the concerned father to call the police.
Isaac was then arrested in his South Wales home.
According to prosecutor Rachel Knight, the 12-year-old boy's family was oblivious to his Minecraft endeavors since the child played the game while they were asleep at night.
After Isaac was arrested, the boy's father warned parents about the risk of pedophiles using Minecraft to talk to innocent children on the other side of the computer screens.
He said,
Isaac started to talk as if he was trying to build a relationship with my son. He was a 12-year-old boy who was vulnerable. Parents often don't let their kids use Facebook or Instagram but things like Minecraft are also open to abuse.
In court, Isaac admitted to other sexual crimes such as causing or inciting child prostitution or pornography, performing sexual acts in the presence of a child, encouraging a child to engage in a sexual activity and the possession of indecent photos of a child.
However, he claims he apologized to the victim's family and acted the way he did because he was bullied as a child.
His actions were inexcusable for the child's family because the young boy is "still suffering," based off a victim's impact statement read to court.
Luckily, the child's parents claim he'll "eventually lead a normal life and return to the child he was."
Citations: Internet paedophile, 22, who groomed boys as young as 12 via the Minecraft computer game before sending them cash for sex chats is jailed for two years (MailOnline)