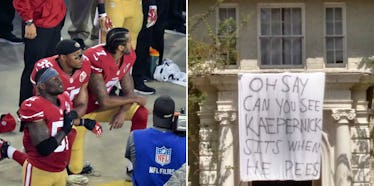 Frat Gets Slammed For Hanging Insensitive Colin Kaepernick Sign On Its House
USA TODAY Sports/Twitter
A Louisiana State University fraternity is under fire after hanging an offensive sign directed at San Francisco 49ers quarterback Colin Kaepernick on its house.
Delta Kappa Epsilon (DKE) at LSU apparently thought it would be hilarious to hang a giant banner making fun of Kaepernick's national anthem protest that has sparked much debate in recent weeks.
Here's the sign, which has reportedly prompted The Coalition of LSU Student Organizations Committed to Community to ask the University to take action against DKE.
The sign reads,
Oh say can you see Kaepernick sits when he pees.
See, instead of trying to understand the reasoning for Colin Kaepernick's protest, several LSU students clearly think it makes more sense to just imply Kaepernick is a woman.
Rational and mature, right?
Apparently, The Coalition of LSU Student Organizations Committed to Community has written a letter to LSU's Dean of Students, calling for DKE to be reprimanded as a result of its apparent numerous transgressions, in addition to the offensive Colin Kaepernick sign.
The letter states:
This is not the first time this fraternity has posted inflammatory banners. DKE has repeatedly displayed language and imagery on campus that many in the LSU community consider highly offensive, racist, misogynistic, and homophobic. While we acknowledge their first amendment right to free speech even when that speech expresses unpopular ideas, we believe it's highly important to formally state that such behavior fosters a hostile campus environment for a large number of students.
A lot of young people are doing great things in this country, but there are some who simply make me weep for the future of the United States.
Citations: LSU DKE Hangs Hilarious Sign From House, People Get Mad (Total Frat Move)