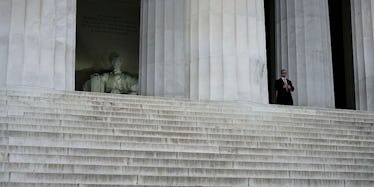 The Lincoln Memorial Was Vandalized And No One Can Agree What It Says
Aaron P. Bernstein/Getty Images
The Lincoln Memorial has been vandalized. Yep, some genius decided to deface one of the most beloved locations in the nation's capital with red spray paint. Based on tweets about the Lincoln Memorial vandalization, people are pretty outraged. But they also don't have a clear idea of who to direct their anger at given there's a debate over what the graffiti actually says. Well done, mysterious vandal! If you're going to commit such a stupid crime, you could at least have the courtesy to make your handiwork somewhat legible. Whatever it really says, whoever vandalized a memorial to the leader who saw America through one of the most trying periods in its history is definitely not cool.
The memorial was apparently vandalized overnight and found around 4:30 a.m. on Tuesday, Aug. 15, NBC Washington reports. Work to remove the poorly executed graffiti is apparently already happening. Anyone with information on the crime is being asked to contact the U.S. Park Police at 202-610-7515.
In the meantime, while the case of the indecipherable Lincoln Memorial graffiti is ongoing, people are taking to Twitter to say how pissed off (and confused) they are.
But seriously, look at this and try to come up with a conclusion as to what it really says.
As noted above, there is not only anger over the fact the memorial was vandalized in general, but also a debate over what the graffiti says.
Some think the words "f**k law" were written on the memorial, but others believe it says "f**k Islam." In the wake of the tragic events that recently occurred in Charlottesville, some seem anxious to point their finger toward a white supremacist as the culprit. But, if it wasn't already clear, we have no idea who did this as of yet.
Regardless of what this graffiti truly says, the moral of the story here is that you should never mess with Honest Abe. Full stop.