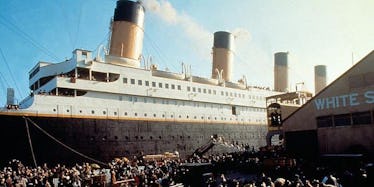 Eerie Letters Reveal Creepy Thing Titanic Rescuers Did With Victims' Dead Bodies
REX/Shutterstock
Secret telegrams unearthed after a century have revealed creepy new details about what happened to people who died on board the Titanic.
The letters, which were never intended to go public, reveal how a rescue ship captain wanted to recover as many bodies as possible from the disaster.
However, the Mackay-Bennett recovery ship was too small for the 334 bodies recovered by its crew — leading them to make a difficult decision.
In the end, more than 100 bodies were thrown into the sea and lost forever.
The crew opted to dispose of the corpses of third class victims to make room for first and second class passengers who died when the liner sank.
In total, 334 bodies were found — but 116 were tossed into the Atlantic Ocean, including crew members.
Telegrams detailing the process have now been released by Titanic historian Charles Haas, of New Jersey.
He told MailOnline,
The collection develops in great detail how difficult the process after the sinking was. They candidly show the immense stress everyone involved was under. When the telegrams were sent I imagine it was with every expectation that they would remain private.
Sent between Captain Frederick Larnder of the Mackay-Bennett and the White Star Line, which operated the Titanic, the telegrams show the struggle faced by both sides.
One sent to the rescue ship reads,
Absolutely essential you should bring to port all bodies you can possibly accommodate.
But the Mackay-Bennett responded,
A careful record has been made of all papers moneys and valuables found on bodies. Would it not be better to bury all bodies at sea unless specially requested by relatives to preserve them?
They eventually settled on the grisly tactic of disposing of the lower class victims, while those who were salvaged were returned to their loved ones.
The telegrams were kept by a former worker for the Cunard Line, which merged with the White Star Line in 1934, before making their way to Haas.
Citations: Long-forgotten telegrams reveal bodies of third-class Titanic passengers were tossed overboard so first and second class victims could be taken home and given proper funerals (MailOnline)