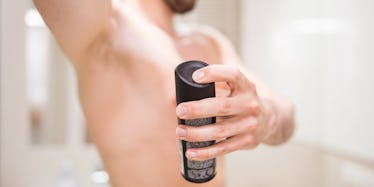 People Claim This Popular Deodorant Is Leaving The Most Insane Burns
Shutterstock
A lawsuit was reportedly filed against the makers of Old Spice deodorant over allegations that several of the products caused severe burns.
According to USA Today, the class-action suit against P&G, which makes Old Spice, seeks more than $5 million in damages due to what the suit describes as burns suffered by "hundreds, if not thousands, of consumers."
Filed in a US district court in Ohio, the lawsuit names 13 Old Spice products as defective, including Old Spice Lionpride deodorant and Old Spice High Endurance Arctic Force deodorant.
Virginia's Rodney Colley, the lead plaintiff, claims he was never burned by any other deodorant product, BuzzFeed reports.
According to the suit, Colley experienced "severe rashes" after using an Old Spice product just a few times.
Hundreds reportedly complained about the products online, but P&G supposedly did nothing in response.
The lawsuit reportedly states,
In addition to blog complaints, YouTube features numerous videos also documenting armpit irritation, rash(es) and burning caused by Old Spice deodorant. Indeed, the problem is rampant, and rather than acknowledge the serious issue, Defendant is concealing it, in order to continue selling the product and reap windfall profits.
In a Facebook post, this woman said she was unable to lift her arms for several weeks after using Old Spice.
This customer claimed he was burned, showing a photo of what he said was three days after use.
A mother alleged her 12-year-old got this burn from Old Spice Fiji.
On Facebook, at least one customer said she had to go to the hospital due to the burn.
Damon Jones, a spokesman for P&G, reportedly denied the products featured in the lawsuit are unsafe.
The affected customers did not suffer chemical burns, but skin reactions due to the ingredients such as alcohol, Jones said.
These same reactions could come from other deodorant brands, some of which are apparently mentioned in the online complaints, he added.
In a statement, Jones explained,
We go to great lengths to ensure our products are safe to use, and tens of millions of men use this product with confidence and without incident every year. A small number of men may experience irritation due to alcohol sensitivity, a common ingredient across virtually all deodorant products. For men who have experienced a reaction to a deodorant, an antiperspirant may be a better option because they have a different formulation.
Jones said just "0.01 percent of consumers" experience a rash or burning sensation from Old Spice products, which he claimed is a typical amount for any product.
Several more affected customers reportedly contacted Colley's lawyer and may be joining the lawsuit.
Citations: People Say They Are Suffering "Severe Rashes" From Using Old Spice Deodorant (BuzzFeed), Lawsuit blames Old Spice deodorant for severe armpit rashes (USA Today)