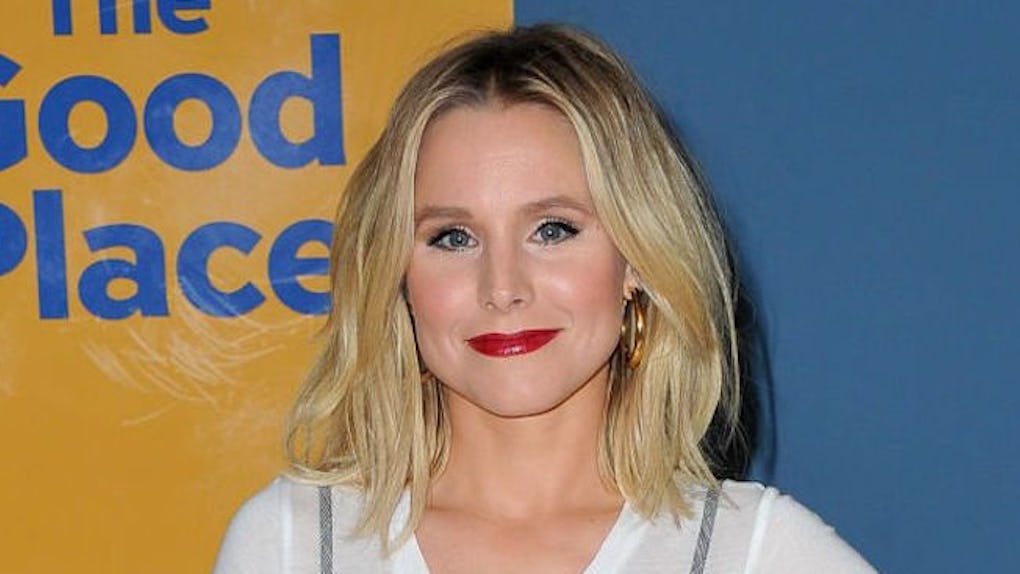 llen Berezovsky/Getty Images
Kristen Bell Helped Josh Gad's Family During Hurricane Irma, & His Message Thanking Her Is The Sweetest
As horrific weather conditions wreak havoc in Florida, many are looking for ways to lend a hand. One of those people includes a popular actress. Kristen Bell helped Josh Gad's family during Hurricane Irma, and his response to her kindness is beyond sweet.
The actress' Frozen co-star took to social media to say a huge thank-you — and to post a photo of Bell and his parents. According to Instagram, Gad wrote, 
"So @kristenanniebell literally saved my parents and my entire family tonight from #hurricaneirma . When they were stranded in Florida, she got them a hotel room at her hotel in Orlando and saved them, my brothers, my sister-in-law and niece and nephew. They don't make them like this girl. Thank you Kristin. You are truly an angel sent from above. And thank you @ewablueeyesfor bother her when I asked you not to!!!!
The Good Place actress, who is in the Sunshine State filming Like Father, claimed she didn't have the option to leave, so she braced herself for the storm. She posted her own Hurricane Irma statement on Instagram and said,
Last run to the store for #irma hurricane holdover prep while bracing down in orlando- we didn't have the option to leave so here we are. Just doing our best and trying to stay positive but cautious, and trying to help those who need help prepping. Every person i passed today was assisting someone else- #neighborshelpingneighbors - it was beautiful to see.
It's wonderful to see people coming together, but it's terrible to think about the tragedy they're going through. As of Sunday, Sept. 10, Hurricane Irma hit the Florida Keys, and the destruction thus far has been awful. Palm trees are breaking, rain is pouring, and the winds have reached about 130 mph, clearly proving Irma's strength.
Even President Donald Trump — who is not one to acknowledge climate change — suggested evacuating  the area because of the storm's "absolutely historic destructive potential." During his Sept. 8 briefing, he said,
I ask everyone in the storm's path to be vigilant, and to heed all recommendations from government officials and law enforcement.
Likewise, Gov. Rick Scott urged everyone to leave their homes if they were told to evacuate. During an appearance on CBS This Morning, his plea took an emotional turn. He said,
Think about your life, think about your family's life. But five to 10 feet of storm surge in the southern part of the state — think about that. That's going to cover homes. We're not a high state. We don't have mountains in the state.
The storm surge is of utmost concern, according to CNN, and southwestern coastal cities could see walls of water reaching close to 15 feet. The Washington Post also reported that a second landfall is also possible in southwest Florida later in the day on Sept. 10. As of the 10th, three fatalities have been reported and nearly the entire state is under hurricane warning, according to ABC News.
Though some on social media comment on the natural disasters with the hashtag #Apocalypse2017, these events are not to be taken lightly. Just when the country began to pick up the pieces after Hurricane Harvey, it had to deal with Hurricane Irma in Florida. Then, Hurricane Jose threatened areas within the Caribbean. Wildfires continue to affect different parts of the U.S. while Mexico was rocked by an earthquake. All in all, it's been a devastating few weeks.
Head to CNN for a live update about Hurricane Irma. If you're interested in making a donation to help victims of the storm, here's how to do so (and steer clear of scams). Our thoughts and prayers go out to everyone who has been affected.