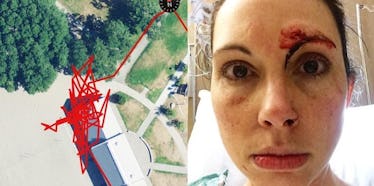 Jogger Who Fought Off Sex Attacker Has Brutal Battle Recorded On Fitness Tracker
Instagram
A Seattle woman fought off a random attacker hiding in a bathroom stall while she was out for a run in the park.
Kelly Herron, 36, had stopped to use a public restroom in Golden Gardens Park on March 5. She was washing her hands when her attacker grabbed her from behind, threw her on the ground and started punching her.
Despite the struggle, Herron was able to fend off Gary Steiner, a 40-year-old registered sex offender.
Herron's harrowing experience was unexpectedly mapped by her fitness tracker, which shows violently erratic red lines to depict her movements at the time.
The runner took to Instagram to share her story, where she wrote her "biggest nightmare became reality" on the day she was attacked.
She wrote,
4 miles into my long run Sunday afternoon, I stopped to use the restroom and was assaulted by a man hiding in a stall (that is my GPS in red lines). I fought for my life screaming ("Not today, M**F**er!"), clawing his face, punching back, and desperately trying to escape his grip- never giving up.
Herron said Steiner repeatedly tried to turn her over onto her stomach.
She told Inside Edition,
It's a full on fight. As woman you are conditioned to know that that is how a man rapes you. Thank God for a pair of good compression pants.
Herron was eventually able to lock her attacker inside a bathroom stall until police arrived. She credited her ability to successfully fight back to a recent self-defense class she had taken.
She explained,
Time stopped. I remembered what the instructor said in class, which was to hit with the side of my hands… Hard bones in soft fleshy places. I realized this doesn't have to be a fair fight. I had one hand to use so I just started clawing his face and punching him in the face with the side of my hand.
According to The Huffington Post, Steiner has been charged with attempted rape and assault.
Herron remains a strong woman inside and out following the attack.
She said in an interview,
My face is stitched, my body is bruised, but my spirit is intact.
Herron told KIRO 7 she rejects the idea of being a victim. She said,
We don't have to go down. We don't have to be quiet about it.
Citations: Woman Uses Self-Defense Techniques She Learned Weeks Earlier to Fight Off Sex Offender (Inside Edition), Kelly Herron, Seattle Jogger, Fights Off Attack And Attempted Rape In Public Washroom (The Huffington Post), Survivor of Golden Gardens attack shares her story (KIRO 7)