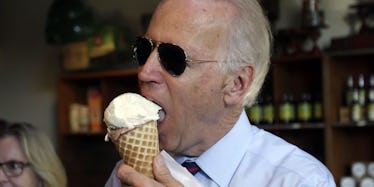 Joe Biden Is Getting His Favorite Ice Cream Named After Him And We're Melting
Shutterstock
If there's one thing Joe Biden loves more than his BFF Barack Obama, it's ice cream.
To be honest, I can only wish to find someone who looks at me the same way Uncle Joe looks at a sweet cone of vanilla. The romance he shares with a frozen treat is almost too sweet to handle, and we're in awe.
I mean, just look at him. If this isn't the epitome of true love, then I don't know what is.
Thankfully, Joe's romantic relationship with ice cream will be taking the next step, because he'll soon be having his favorite flavor named after him at the Cornell Dairy in New York.
According to Cornell Sun, Biden was chosen to be this year's convocation speaker at Cornell University on May 27. To properly welcome the sweet-lovin' ex-veep, the college decided to name an ice cream flavor after him at the university's dessert parlor.
Deanna Simons, quality manager and academic programs coordinator for Cornell Dairy, called UDairy at the University of Delaware (where Biden graduated) and asked them what Joe's favorite ice cream is.
Of course, it's good old chocolate chip.
Since Uncle Joe's favorite ice cream has been revealed, students have been submitting their votes to determine the name of his very own flavor.
The five most popular names are Biden's Chocolate Bites, Bits n' Biden, Big Red, White & Biden, Not Your Average Joe's Chocolate Chip, and Uncle Joe's Chocolate Chip.
My favorite it definitely Uncle Joe's Chocolate Chip. My heart (and stomach) is full just thinking about it.
Cheers, Joe. We're so happy for you.
Apparently, students can vote until late Monday night, but the final name will be cleared by Joe's representatives.
If you aren't a student, I suppose you'll have to wait and see which flavor name wins the contest.
No matter what the winning name ends up being, I'm sure Joe Biden will eat it up (literally).
Citations: Cornell Dairy to Make Memes Into Reality With Joe Biden-Themed Ice Cream (Cornell Sun), Joe Biden, Ice Cream Lover, Is Getting His Own Flavor (Cosmopolitan)