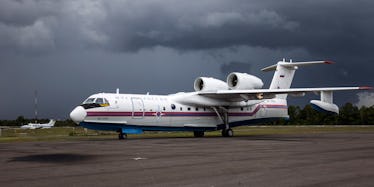 ISIS Claims This Soda Can Was Used To Bomb The Russian Plane Over Egypt (Photo)
Getty Images
The Islamic State released an image of what it claims to be the bomb that caused last month's explosion of a Russian plane.
According to Daily Mail, an unverified picture of a pineapple soda can and a detonator switch was recently published in the militant group's monthly propaganda magazine, Dabiq, alongside the caption, "The IED used to bring down the Russian airliner."
New issue of #ISIS/Daesh magazine Dabiq: We used this soda can for the IED that brought down #Russia's jet in #Egypt pic.twitter.com/fVIig2LKrf — James Wheeler (@wheelertweets) November 18, 2015
#ISIS: Original plan to take down a Western plane, but found a security gap at Sharm El-Sheikh and changed to #Russia because of airstrikes — James Wheeler (@wheelertweets) November 18, 2015
Dabiq claimed the attack, which killed all 224 people onboard, was prompted by Russian airstrikes on rebels looking to overthrow Syrian President Bashar al-Assad, an ally of Russian President Vladimir Putin.
These airstrikes may have been against rebels fighting the Islamic State, but the magazine declared any involvement in Syrian airspace or the militants' quest to take over Syria was worthy of punishment.
The magazine reportedly wrote,
After having discovered a way to compromise the security at the Sharm el-Sheikh International Airport and resolving to bring down a plane belonging to a nation in the American-led Western coalition against the Islamic State, the target was changed to a Russian plane... This was to show the Russians and whoever allies with them that they will have no safety in the lands and airspace of the Muslims, that their daily killing of dozens in Sham through their airstrikes will only bring them calamities, and that just as they kill, they will be killed, by Allah's permission.
On Tuesday, Russia confirmed a device equipped with a little more than three pounds of explosives destroyed the plane shortly after it left Egypt.
It was also reported yesterday a Russian submarine launched cruise missiles at the Islamic State's headquarters in Al-Raqqah, Syria.
Putin vowed to intensify future strikes on the militant group and capture those responsible for the plane attack.
Citations: ISIS: 'The drink-can bomb we used to bring down Russian plane'. Gloating terrorists release picture of pineapple- juice device they claim was used to kill 224 people (Daily Mail)