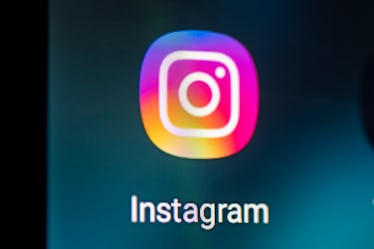 Instagram Is Finally Back — Here's What To Know About What Went Wrong
Here's why you couldn't refresh your feed.
picture alliance/picture alliance/Getty Images
Instagram, Facebook, and WhatsApp users had an unpleasant surprise on Monday, Oct. 4 when all three of the social media sites appeared to be down. If you also experienced issues and wondered if Instagram was down, you weren't the only one. Here's what to know about the Instagram outage that affected your feed for several hours on Oct. 4.
On Monday, Oct. 4, Down Detector revealed that users nationwide were reporting Instagram outages, which peaked at 98,851 reports at 11:59 a.m. ET and held steady with 55,232 reports at 12:29 p.m. ET. To put that into context, the baseline for those times is between 23 and 27 reports. You may have noticed it yourself when you got a message of "Couldn't Refresh Feed" as you tried to scroll the app on your phone. Systems finally came back online around 6:40 p.m. ET on Oct. 4.
In an email to Elite Daily, a Facebook spokesperson said, "To everyone who was affected by the outages on our platforms today: we're sorry." Acknowledging the large number of users impacted, Facebook added, "We know billions of people and businesses around the world depend on our products and services to stay connected. We appreciate your patience as we come back online."
The main cause was a networking issue that affected communications between Facebook's data centers, according to Facebook, and that led to the sudden outage that affected all its platforms. The issue also impacted Facebook's internal systems (like email and messaging), which was why it took so long to figure out and resolve the problems. Per Facebook, no user data is at risk following the incident.
Instagram earlier acknowledged the in a more vague tweet shared at 12:25 p.m. ET, nearly 30 minutes after the greatest number of reports. In a message on the Instagram Comms Twitter account, which was retweeted by the official Instagram account, the company said, "Instagram and friends are having a little bit of a hard time right now, and you may be having issues using them. Bear with us, we're on it! #instagramdown."
Prior to Facebook's explanation, app researcher Jane Manchun Wong shared a possible explanation in a tweet, writing, "It appears that Facebook, Messenger and Instagram are having DNS issues." In another tweet shared with an accompanying image of code, Manchun Wong also wrote that "Facebook's Workplace and internal site are also having DNS issues." The DNS is the domain name system that maps your request for a website to that site's IP address to connect you, and from Facebook's explanation, it sounds like Wong was on the right track.
As of Oct. 5, it appears the issue has been resolved, and you should be able to scroll and post with no interruptions. It's not clear if Facebook will make any adjustments with the way it runs its network following the issue, but after the chaos on Monday, it wouldn't be surprising if some changes are made.
This article was originally published on