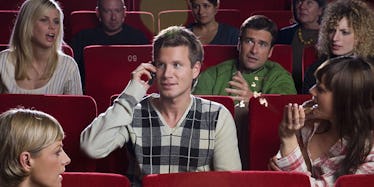 New iPhone Mode Is Perfect For Texting At The Movies Without Getting Yelled At
REX/Shutterstock
Congratulations: The latest iPhone update might make texting at the movies less annoying.
Yes, you — person who makes a random white light show up out nowhere in the theater: iOS 10.3 is dedicated to you. At least, that's the word according to notable iPhone leaker Sonny Dickson.
In a pair of tweets sent during the holidays, Dickinson shared some new info on the upcoming update for Apple's mobile devices. Here's what he had to say:
OK: theatre mode, popcorn icon, January 10. Got it?
Well, if you don't, that's understandable. After all, no one knows exactly what "theatre mode" means. But it appears Dickinson has offered a bit more clarification since sending the tweets.
Apple specialist site 9To5Mac reported "briefly" talked to Dickinson. Though the site didn't post any of his direct quotes, 9to5Mac did say Dickson noted three things:
His info about "theatre mode" came from a source who has had good info in the past.
The codename for the update is "Erie" (which is borderline useless information, but whatever).
Theatre mode could essentially be a dark mode.
Tech writers at Apple Insider and Forbes speculate theatre mode could basically shut off all notifications and alerts and dim your iPhone.
Now, there are two things to note here.
First: The iPhone already has a function that shuts off notification sounds. It's the "do not disturb" tab in the control. So, one would hope that theatre mode does a bit more than just dim your screen's brightness (otherwise, there doesn't seem to be much reason to get excited, frankly).
Secondly, and most importantly, can we talk about how many annoying updates Apple keeps forcing its users to download? According to Forbes, 10.3 would be the eighth update for iOS 10, which was only released in September.
That pace, the reporter notes, puts Apple on track to put out 24 updates in one 12-month iOS cycle alone. The key word here is "forcing" because Apple continues to remind us about these updates in some of the most annoying ways possible.
My sentiments exactly.
Anyway, let's hope iOS 10.3 — and this rumored theatre mode — is something worth Apple reminding us about over, and over, and over, and over...
Citations: Rumor: Apple to release iOS 10.3 beta with 'Theater mode' in January (Apple Insider), Apple iOS 10.3 Release, It's A Big One (Forbes), Leaker claims iOS 10.3 beta 1 codename 'Erie' featuring new theatre (dark?) mode, popcorn-shaped control center icon debuts Jan 10th (9To5Mac)