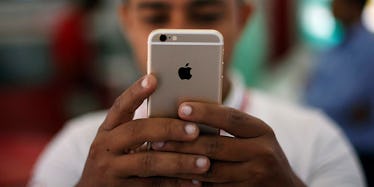 If This Rumor Is True, You'll Want To Wait For The iPhone 8 And Skip The 7
REUTERS
Let's face it, Apple hasn't done many exciting things lately.
The fact that iPhone sales are down for the first time in forever speaks for itself, plus there's a lack of hype surrounding the upcoming iPhone model, which pretty much never happens.
And that's because the consensus seems to be that the iPhone 7 is, well, underwhelming. According to MacRumors, just about the only new things coming to the iPhone 7 are a new camera, improved water resistance and some other stuff that either sounds unexciting or ambiguous.
But the iPhone 8? Now that one sounds like it could be major.
According to a report from DigiTimes, citing "industry sources," the iPhone 8 could put "iris recognition technology" to use. In other words, the phone might be able to recognize your face and use an eye scan.
This only adds to rumors about the futuristic features that could be coming to the iPhone 8, with talk of cool additions like wireless charging and a new "edge-to-edge" display being brought up.
Of course, this is all going under the assumption that the iPhone 8 will be actually released in 2018, which doesn't seem certain.
According to the DigiTimes report, 2018 is the year they claim Apple plans to implement the new technology, sure, but people have only figured that the eye scanning will correspond with the iPhone 8 because the company usually releases "S" models in between solid numbers (i.e. iPhone 7 in 2016, iPhone 7s in 2017, etc.).
Some reports, though, say that the iPhone 8 could actually be released in 2017. What that makes 2018's model is anyone's guess at this point.
But still, if this rumor about new iPhone technology is true, you'll definitely want to wait for a later model and get the most out of your money.
Citations: iPhone 8 (Mac Rumors), WSJ: New iPhone will look like the 6S, but big changes are coming in 2017 (The Verge), Vendors to launch smartphones supporting biometrics recognition (DigiTimes), Apple sees iPhone sales drop again but beats forecasts (BBC), There's A New iPhone Rumor — For The iPhone 8 (Refinery 29)