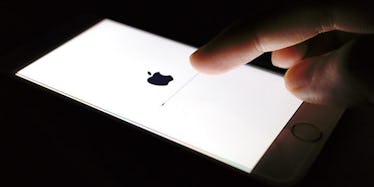 Your iPhone 5 May Suffer A Cruel Death If You Update To New iOS, Experts Warn
Shutterstock
Apple may currently be in the process of phasing out support for older models of the iPhone.
Technology expert Zeph McLearan expressed concern after he saw the latest iOS 10.3.2 beta update, which apparently lacks support for a 32-bit device.
The iPhones 5 and 5C, as well as the fourth generation iPad, all run on a 32-bit processor.
The more recent iPhone models (anything after the 5C), on the other hand, all run on a 64-bit processor, which is covered by the latest update.
As Apple continues its push toward an "all 64-bit future," the company warned iOS 10 users last year that 32-bit apps may negatively impact system performance, according to Apple Insider.
The tech magazine wrote,
More recently, users attempting to open 32-bit software in iOS 10.3 are met with the message, 'This app will not work with future versions of iOS.'
This basically means anyone who installs the new iOS update with an iPhone 5, 5C or a fourth-generation iPad could be vulnerable to security glitches and bugs.
As someone who currently owns an iPhone 5 and certainly does not have the funds to buy a brand new device, you could say I'm freaking out just a little bit.
However, it's not quite time to panic yet, as this is only a beta update for now - meaning Apple is still just testing it out.
Plus, the tech giant hasn't officially announced the death of the iPhone 5, 5C and the fourth-generation iPad, all of which are still technically able to install the latest update.
But the update does make it pretty clear that 32-bit devices are at least on their way to becoming obsolete, if they aren't already.
If Apple was going to announce something like this, most experts in the field are confident it would likely happen at the upcoming Worldwide Developers Conference in June.
The largest iPhone update, iOS 11, is expected to be unveiled at that conference on June 5.
Citations: Tech experts claim Apple are going to make the iPhone 5 obsolete (Metro.co.uk), Apple seemingly ends support for 32-bit devices with iOS 10.3.2 (Apple Insider)