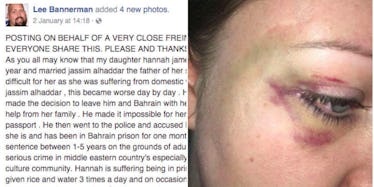 Mom Posts Awful Injury Pics After Daughter's Jailed For Leaving Abusive Husband
Facebook
A British mom had been jailed in Bahrain — where she lived with her family — for trying to leave her allegedly abusive husband.
Friends and family of Hannah James, 26, have shared photos on Facebook of injuries they claim she has suffered at the hands of Jassim Alhaddar, 30, the father of her 4-year-old son.
Hannah tried to escape from her husband after he accused her of adultery — a serious crime under Sharia law. However, she was arrested and faced a possible lengthy prison sentence.
In an interview with Mirror, Alhaddar claimed he found his wife cheating and hurt her in self-defense:
She has white skin so when I go to grab her by her hand there will be bruises for her. Her skin colour, the bruises appear for her really easily.
He also claims Hannah "fought back, too."
A petition has been launched in a bid to bring Hannah back to the UK. Her mom, Shelley James, wrote,
Things became very difficult for her as she was suffering from domestic violence by the hands of Jassim Alhaddar. This became worse day by day. He made it impossible for her to leave, as he burnt her passport. He then went to the police and accused her of having an affair, so she is and has been in Bahrain prison for one month now and is looking at a sentence between one to five years on the grounds of adultery, which is a very serious crime in Middle Eastern countries.
Shelley said Hannah suffered in prison and was only fed rice and water. She claims the rice contained sedatives to keep the prisoners calm.
Although Hannah suffered while in jail, she has fortunately been released, which Shelley confirmed in a Facebook messaged that read:
I Shelley James mother of Hannah James can now confirm that Hannah James has been released from Bahrain jail at 6 pm today and is in safe hands and being very well looked after. But she cannot leave Bahrain at the moment due to legal reasons.
Though one nightmare ended, the family is still struggling to find a way to get Hannah home.
Shelley described Alhaddar's character and pleads the public to get behind the petition and help get her daughter home safely.
Citations: British mum jailed in Bahrain after her 'violent husband accused her of adultery' (Mirror), British mum jailed after trying to leave 'abusive' husband in Bahrain (Metro), #freehannahjames (Change.org)