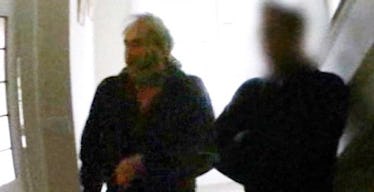 Man Has Eerie Reaction When Caught Poisoning Fiancée And Storing Body In Sewage
Herts Police
The fiancé of children's author Helen Bailey has been found guilty of her murder after drugging and suffocating the victim and subsequently throwing her body into a hidden cesspit.
New footage shows the moment Ian Stewart, 56, was arrested for the 51-year-old woman's murder.
In the clip, when authorities told him he was being arrested, Stewart seemed incredulous:
Bloody hell, why? You're joking! Why me?
Stewart can be seen using the wall to guide himself down as he sits on the stairs of the Hertfordshire home where he lived with Bailey.
Toward the end of the video, he mysteriously asks if the garage doors are open.
Stewart has previously been described by police as "a cold and calculating narcissist." He "grossly deceived" the children's author when they initially met online after the death of her previous husband in 2011.
Prosecutors have alleged Stewart courted Bailey in order to inherit her fortune, which she earned after publishing over 20 books, including the popular Electra Brown teenage fiction series.
For weeks, Stewart had been secretly giving Bailey Zopiclone, a sleeping drug, before he eventually smothered her with a pillow, according to a pathologist.
On the day of her death last April, Stewart gave himself away when he was caught moving her money into a joint account.
Bailey's body was then discovered alongside her pet dog's dead body in a pit beneath the garage.
After a six-week trial, Stewart has now been found guilty of murder, fraud, three counts of perverting the course of justice and preventing a lawful burial.
According to MailOnline, following the jury's verdict, Detective Chief Inspector Jerome Kent said,
To kill somebody was despicable enough, but to dispose of her in the way he did and lie to everyone including his own children shows how wicked and despicable that man is.
In the wake of Bailey's tragic death, police are also launching a new probe into the death of Ian Stewart's first wife, Diane, who passed away in 2010.
Diane's family has confessed to having several unanswered questions surrounding Diane's death, though a coroner had ruled that the 47-year-old school secretary died of natural causes linked to her epilepsy.
DCI Jerome Kent said,
[In light of Stewart's conviction] it will not be a surprise to hear that we will be looking into his past to see if there is anything else to consider.
However, authorities have stressed this is not a murder investigation, nor was Stewart suspected of killing his first wife.
Citations: Helen Bailey murder: Fiance Ian Stewart found guilty (BBC News), 'You're joking': Helen Bailey's fiance's callous response to his arrest as he's found guilty of murdering the children's author and dumping her body in a cesspit in an evil bid to get his hands on her £4million fortune (MailOnline)