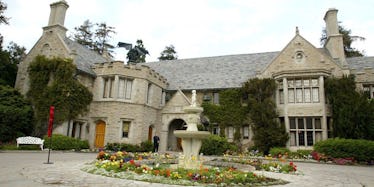 House That Beat Playboy Mansion As Most Expensive In World Will Make Jaws Drop
Rex/Shutterstock
Regardless of what you think of Hugh Hefner, there's no denying his Playboy Mansion is the height of luxury.
The building boasts seven bedrooms, eight bathrooms and a bunch of facilities like a theater  — and, of course, decades of sleazy history.
So when I tell you that a home sold last year for nearly three times as much as Hef's beloved mansion, you're right to expect something pretty incredible.
And, yeah, this sweet pad speaks for itself.
That bad boy sold in 2016 for $270 million.
TWO HUNDRED AND SEVENTY MILLION DOLLARS.
Super-rich Chinese tycoon Hongtian Chen just bought the gigantic mansion is on a hillside in Hong Kong, the South China Morning Post reported.
It was one of five homes known to have been sold for at least $100 million in 2016, Hefner's famous mansion making the list, too.
The 90-year-old decided to cash in on the home where he has made so many, umm, memories, although new buyer Daren Metropoulous, the co-owner of Twinkies maker Hostess, won't move in until after Hefner has died.
But let's talk some real housing goals.
Just look at this utterly ridiculous 32-bedroom, 32-bathroom home in Suzhou, China.
It was marketed under the heading "Taohuayuan," meaning "utopi" in Mandarin, and eventually got picked up for an eye-watering $154 million, Mansion Global reported.
Two other impressive pads — in Dallas and LA — matched the Playboy Mansion's $100 million price tag.
Andrew Beal, owner of Beal Bank, bought the Creeps Hicks Estate, which I guess would do nicely if I ever fancy a holiday home in Texas.
Not bad, I suppose.
The 25-acre site was once owned by Tom Hicks, the former owner of the Dallas Stars, Texas Rangers and Liverpool FC.
And this luxury home, just across the street from Frank Sinatra's old place in the City of Angels, also cracked $100 million, Forbes reported.
It was bought by Detroit Pistons owner Tom Gores, who was probably lured in by the entertainment pad, including a lounge, theater, wine room and valet entry.
Or maybe it was the fireside lounge, swimming pool, sports courts and hiking trail.
Now, if you'll excuse me, I'm going to sit in my tiny apartment and cry.
Citations: 'No cause for alarm,' development chief says, after HK$2.1 billion Hong Kong house sale sets new record (South China Morning Post), The Most Expensive Home Listing in Every State 2016 (Forbes), Most Expensive Luxury Home in China Listed for $154 Million (Mansion Global)