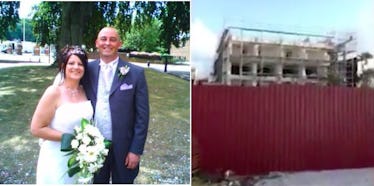 Couple Lives Out Nightmare After Hotel Looks So, So Far From The Pics
Facebook/MailOnline
There's no worse feeling than that sinking pit you get in your stomach when you realize you've just been scammed.
Now imagine having that feeling when you arrive at what is supposed to be your dream vacation.
That's exactly what this poor couple had to endure when they embarked on their getaway to Barbados.
Paul Walker, 48, and his wife Marian, 52, spent around $5,000 to book their two-week holiday to celebrate Paul's birthday. They made the arrangements nine months in advance.
However, Thomas Cook, their travel agent, called the couple up 12 hours before their scheduled flight to let them know their hotel was "not quite ready."
Plus, the travel agency claimed to have evidence of emailing the Walkers back in November to let them know about the change, which Paul deemed "absolute rubbish."
Paul and Marian were then sent to another hotel which, big shocker, did not match the description nor the standard of the hotel they originally booked.
When they arrived in Barbados, the Walkers came upon a building site clearly still under construction.
Virgin Holiday and Thomas Cook, among several other travel agents, have apparently been advertising the place for customers since 2015, according to MailOnline.
Paul said what was supposed to be their dream trip turned into a "holiday from hell." He added,
I've been so depressed about this. Everything we were promised we didn't get.
So far, the opening date for The Sands has already been pushed back three times, with the latest date set for May 1, 2017. However, a local who lives near the location said there's no way that's possible.
The rage bubble in my chest is so large, I think I might explode.
In terms of compensation for their inconvenience, Cook may as well have crapped in his hand and given that to the couple.
Paul said,
I've spoken to Thomas Cook and they will still only offer me £130 compensation for the short notice because they claim the replacement hotel was dearer, but how could such an old hotel be more than a brand-new luxury one?
Not only was the alternative hotel clearly worse than what they were originally booked for, but Paul claimed he and his wife were offered drugs, including cocaine, within hours of their arrival, making them feel extremely unsafe.
A Thomas Cook spokesperson commented on the incident and said,
We're sorry that Mr. and Mrs. Walker were unable to travel to the hotel they originally booked in Barbados. The hotel had given us assurances about when construction would be finished, but when it became clear that this would change again, we took the hotel off sale and customers due to travel were contacted to discuss other options. We contacted Mr. and Mrs. Walker by email in November 2016 to make them aware of building work taking place, that we had arranged another hotel and their holiday would still go ahead as planned.
Again, Paul denies ever having received such an email.
Additionally, a spokesperson for The Sands Hotel said of the Walkers' complaints:
We share our customers' disappointment on the delays to the scheduled opening of The Sands, Barbados and sincerely apologize for the frustration this has caused.
Barbados sounds nice, but keeping my money in my wallet and my dignity intact sounds way better.
Citations: Thomas Cook call couple 12 HOURS before their £5,000 two-week dream holiday to Barbados to say their hotel was 'not quite ready' (video reveals the resort as a BUILDING SITE) (MailOnline)