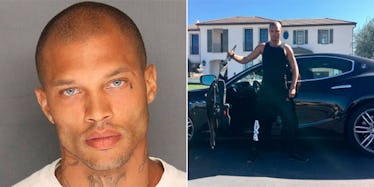 'Hot Convict' Jeremy Meeks Is Balling Out In Maseratis Because Being Sexy Pays
Facebook/Instagram
This just in: Former felon and consensus beautiful person Jeremy Meeks has a new name, Maserati Meeks.
No, like, for real. He calls himself that now.
See?
Your boy Jeremy been ballin' lately, courtesy of a modeling career that kicked off after the internet dubbed him the "hottest convict ever."
Just a quick recap: Meeks's mugshot was uploaded by police on Facebook in June 2014.
Then, literally thousands of women commented, presumably to the tunes of their ovaries exploding.
Everyone noticed. The "hot convict" was born, and by March of the next year, he signed a modeling contract — even though he was still in jail.
Anyway, his new life seems to be treating him well, particularly since he was released from jail last March. And he's had no problem sharing that life with his nearly 700,000 followers on his verified Instagram account.
There's that Maserati, of course, but there's also gorgeous, two-story home that looks like it belongs somewhere in your dreams.
Oh, and for all the people who keep asking if he's single, the answer is he's not. In fact, he wasn't even single before he got arrested, it seems.
All throughout his Instagram account you can spot pictures of him and is wife — who he says he's been with for eight years, in one photo caption — and his three kids.
Yup, the #MaseratiMeeks family looks like it's doing just fine, and all because their dad got in, you know, a little trouble that one time. Who woulda thunk it? Not Jeremy.
In an interview he gave with ABC while he was still in jail, he said,
I'm in a place where I will be able to provide for my family and really change my life. I never thought that everyone in the world would recognize me for my looks, so I feel extremely blessed and very thankful.
Yep, blessed does seem to be the word.
Citations: "Hot Felon" Jeremy Meeks Appears to Be Living a Life of Luxury Now (Cosmopolitan), jmeeksofficial (Instagram)