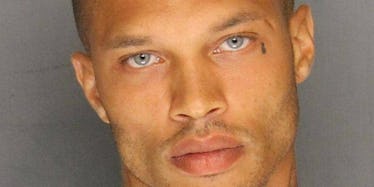 The Hot Mugshot Guy Scored A Modeling Contract While Still Behind Bars
Stockton Police Department
Remember Jeremy Meeks? The hot convict with the chiseled cheekbones and piercing blue eyes?
It's okay if you don't because you'll be seeing a lot more of the gorgeous inmate in the near future; he recently signed on with a modeling agency -- while in prison. 
Meeks, who has been locked up for felony possession of a firearm, first gained attention last year when his mugshot -- posted to the Stockton Police Department's Facebook page -- went viral.
He still has a bit of time left on his 27-month sentence, but modeling agency White Cross Management has already scooped him up for when he gets out.
Meeks told ABC in an interview,
I never though that everyone in the world would recognize me for my looks, so I feel very blessed and thankful.
The 30-year-old hopes his modeling career will allow him to "really change" his life.
We already know Meeks looks delicious as a high-fashion model, and we're so glad he'll be trading handcuffs for haute couture soon.
Citations: Hot convict Jeremy Meeks wins modeling contract despite being behind bars (Daily Mail ), Hot Convict Jeremy Meeks Plans His Modeling Future From Prison (ABC News)