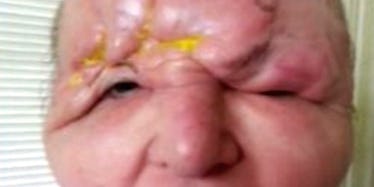 Horrifying Pic Of Woman's Face Melting Will Make You Never Want Plastic Surgery
CBS/The Doctors
We live in a vain society where cosmetic procedures are becoming more common than ever.
Going under the needle to banish your wrinkles or plumping your lips into the perfect Kylie Jenner pout may not seem like a big deal.
However, it's important to remember plastic surgery always has risks.
If you've been dabbling with the idea of injecting your face with fillers, you might want to pay attention.
We just came across a horrifying picture of a woman's face melting that might convince you to skip out on the plastic surgery and embrace your natural beauty.
In 2009, Carol Bryan, 54, got dermal fillers with the hopes that it would fend off the signs of aging.
However, the fillers left Bryan with anything but a youthful appearance.
The botched procedure "grossly disfigured" Bryan's face, blinding her in one eye and causing her forehead to collapse.
Apparently, the doctor administered the cocktail of chemicals to the wrong part of Bryan's face which caused it to start swelling just weeks after the procedure.
Eventually, the swelling became so severe, Bryan had to tape her eyes open in order to see.
Bryan was so ashamed of her appearance that she refused to leave her house without covering her disfigured face for six years, and even contemplated taking her own life.
She later had corrective and reconstructive surgery to fix the problem. However, Bryan will never be able to restore her face to its original appearance.
Now Bryan is on a mission to spread awareness about the potential consequences of "seemingly harmless" plastic surgery procedures.
According to Bryan,
I want to make sure this didn't happen to me in vain. I will work tirelessly not to let this happen to anyone again.
Bryan recently made an appearance on the television show, "The Doctors," where she revealed it was the first time she had ventured out in public without covering her face since the botched procedure.
Bryan spoke about her personal experiences with cosmetic procedures, stating,
I started doing Botox in my 30s for the vertical lines between my eyes. It was amazing. It took years off my face. There came a point in time where I felt I was losing some volume. I went for a consultation. I was persuaded to have fillers. [Afterwards] I was not looking at Carol. My face was blowing up and my forehead began to protrude out like an alien. They caused me to become grossly disfigured. I didn't feel comfortable going in public and I actually secluded myself from all my friends and family for three-and-a-half years. I felt like a monster. I wore hats and scarves and sunglasses all the time, hoping I would someday finally be able to look in the mirror again and recognize myself.
Bryan has been able to regain some of her confidence since the incident, thanks to Dr. Reza Jarrahy, who managed to repair some of the damage caused by the fillers.
Bryan serves as a good reminder that it's important to look at all of the risks before going under the needle, because sometimes, minor procedures can have major lifelong consequences.
Citations: Woman's face 'melted' after having fillers (Metro)