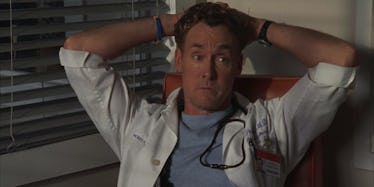 These Are The 25 Highest Paying Jobs In The US Right Now
Walt Disney Studios Home Entertainment
America may be going through a lot of changes, but its most rewarding jobs appear to be exactly what you'd expect.
Glassdoor examined reports from people who shared their salaries on the website to create its list of the 25 highest paying jobs in America for 2016.
The number of job openings for each position is based on the amount of active job listings available on Glassdoor as of February 23.
Unsurprisingly, many of the jobs are management positions and tend to involve healthcare, technology or a lot of numbers.
Data scientist, with a 16th-place ranking, was recently named the best job in the US, largely due to the score it received for career opportunities.
Judging by the rest of the list, it looks like a combination of leadership, creativity and mathematical proficiency is the best formula for making it big if you can't afford medical or law school.
Here's the full list.
1. Physician
Median base salary: $180,000
Number of job openings: 2,064
2. Lawyer
Median base salary: $144,500
Number of job openings: 995
3. Research & Development Manager
Median base salary: $142,120
Number of job openings: 112
4. Software Development Manager
Median base salary: $132,000
Number of job openings: 3,495
5. Pharmacy Manager
Median base salary: $130,000
Number of job openings: 1,766
6. Strategy Manager
Median base salary: $130,000
Number of job openings: 701
7. Software Architect
Median base salary: $128,250
Number of job openings: 655
8. Integrated Circuit Designer Engineer
Median base salary: $127,500
Number of job openings: 165
9. IT Manager
Median base salary: $120,000
Number of job openings: 3,152
10. Solutions Architect
Median base salary: $120,000
Number of job openings: 2,838
11. Engagement Manager
Median base salary: $120,000
Number of job openings: 1,452
12. Applications Development Manager
Median base salary: $120,000
Number of job openings: 263
13. Pharmacist
Median base salary: $118,000
Number of job openings: 4,502
14. Systems Architect
Median base salary: $116,920
Number of job openings: 439
15. Finance Manager
Median base salary: $115,000
Number of job openings: 2,582
16. Data Scientist
Median base salary: $115,000
Number of job openings: 1,985
17. Risk Manager
Median base salary: $115,000
Number of job openings: 1,137
18. Creative Director
Median base salary: $115,000
Number of job openings: 696
19. Actuary
Median base salary: $115,000
Number of job openings: 175
20. Data Architect
Median base salary: $113,000
Number of job openings: 762
21. Tax Manager
Median base salary: $110,000
Number of job openings: 1,495
22. Product Manager
Median base salary: $107,000
Number of job openings: 7,758
23. Design Manager
Median base salary: $106,500
Number of job openings: 510
24. Analytics Manager
Median base salary: $106,000
Number of job openings: 988
25. Information Systems Manager
Median base salary: $106,000
Number of job openings: 147
Citations: 25 Highest Paying Jobs in America for 2016 (Glassdoor)