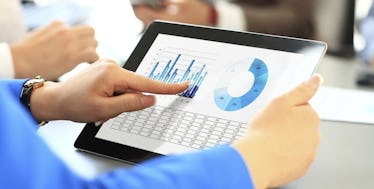 Here Are This Year's 25 Best Jobs To Have In The United States
Getty Images
The best jobs in the country were revealed, and as one would expect, math and technology specialists still got it made.
According to Mashable, Glassdoor bases its annual list on the amount of money each position has the potential to earn, the amount of openings for the position and the career-advancement opportunities offered by each position.
The jobs were then given a score between one and five, with five being the best.
Coming in at the number one job overall was data scientist, earning a median base salary of about $116,000 a year and possessing plentiful career opportunities and high chances of securing those openings.
On the other hand, the largest salary, at $135,000, belongs to 12th-ranked software development manager, one of 11 jobs on the list with six-figure median salaries.
Last year's number one job, physician's assistant, is this year's number seven, thanks to a slight drop in its median base salary.
Technical account manager is ranked 20th, despite having the lowest median salary on the list and earning considerably less than the five jobs below it.
Here's the full list.
1. Data scientist • Job score: 4.7 • Number of job openings: 1,736 • Median base salary: $116,840 • Career opportunity rating: 4.1
2. Tax Manager • Job score: 4.7 • Number of job openings: 1,574 • Median base salary: $108,000 • Career opportunity rating: 3.9
3. Solutions Architect • Job score: 4.6 • Number of job openings: 2,906 • Median base salary: $119,500 • Career opportunity rating: 3.5
4. Engagement Manager • Job score: 4.6 • Number of job openings: 1,356 • Median base salary: $125,000 • Career opportunity rating: 3.8
5. Mobile Developer • Job score: 4.6 • Number of job openings: 2,251 • Median base salary: $90,000 • Career opportunity rating: 3.8
6. HR Manager • Job score: 4.6 • Number of job openings: 3,468 • Median base salary: $85,000 • Career opportunity rating: 3.7
7. Physician Assistant • Job score: 4.6 • Number of job openings: 3,364 • Median base salary: $97,000 • Career opportunity rating: 3.5
8. Product Manager • Job score: 4.5 • Number of job openings: 6,607 • Median base salary: $106,680 • Career opportunity rating: 3.3
9. Software Engineer • Job score: 4.5 • Number of job openings: 49,270 • Median base salary: $95,000 • Career opportunity rating: 3.3
10. Audit Manager • Job score: 4.5 • Number of job openings: 1,001 • Median base salary: $95,000 • Career opportunity rating: 3.9
11. Analytics Manager • Job score: 4.5 • Number of job openings: 982 • Median base salary: $105,000 • Career opportunity rating: 3.7
12. Software Development Manager • Job score: 4.4 • Number of job openings: 1,199 • Median base salary: $135,000 • Career opportunity rating: 3.4
13. Product Marketing Manager • Job score: 4.4 • Number of job openings: 1,111 • Median base salary: $115,000 • Career opportunity rating: 3.5
14. Marketing Manager • Job score: 4.4 • Number of job openings: 2,560 • Median base salary: $90,000 • Career opportunity rating: 3.4
15. QA Manager • Job score: 4.4 • Number of job openings: 3,749 • Median base salary: $85,000 • Career opportunity rating: 3.4
16. Finance Manager • Job score: 4.3 • Number of job openings: 1,632 • Median base salary: $115,000 • Career opportunity rating: 3.3
17. Business Development Manager • Job score: 4.3 • Number of job openings: 2,906 • Median base salary: $80,000 • Career opportunity rating: 3.4
18. UX Designer • Job score: 4.3 • Number of job openings: 863 • Median base salary: $91,800 • Career opportunity rating: 3.6
19. Strategy Manager • Job score: 4.3 • Number of job openings: 631 • Median base salary: $130,000 • Career opportunity rating: 3.7
20. Technical Account Manager • Job score: 4.2 • Number of job openings: 1,160 • Median base salary: $69,548 • Career opportunity rating: 3.7
21. Consultant • Job score: 4.2 • Number of job openings: 1,071 • Median base salary: $84,000 • Career opportunity rating: 3.4
22. Construction Superintendent • Job score: 4.2 • Number of job openings: 1,054 • Median base salary: $78,000 • Career opportunity rating: 3.4
23. Nurse Practitioner • Job score: 4.2 • Number of job openings: 5,624 • Median base salary: $99,500 • Career opportunity rating: 3.1
24. Electrical Engineer • Job score: 4.2 • Number of job openings: 2,516 • Median base salary: $76,900 • Career opportunity rating: 3.3
25. Software Architect • Job score: 4.2 • Number of job openings: 653 • Median base salary: $130,000 • Career opportunity rating: 3.4
Citations: The best job in America has a median salary of over $116,000 (Mashable), 25 Best Jobs in America (Glassdoor)