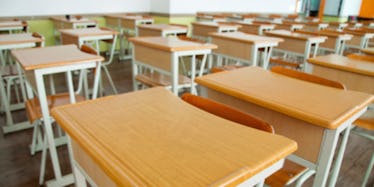 Heroic Vice Principal Tackles Gunman And Prevents Shooting At School
Ghetty Images
An assistant principal prevented a possible school shooting by tackling a gunman who wounded his colleague.
According to Daily Mail, the 16-year-old gunman entered the main office of South Dakota's Harrisburg High School Wednesday morning and got into a physical struggle with Principal Kevin Lein.
The shooter then produced a gun and fired one shot into Lein's arm.
Ryan Rollinger, the assistant principal and assistant football coach, heard the shot and immediately tackled the gunman.
Rollinger, 39, and Joey Struwe, the school activities director, held the shooter down until police arrived to detain the gunman, Argus Leader reports. Police were reportedly summoned when school staff pushed "panic buttons" to let the police know the school went into lockdown.
According to Argus Leader all students were taken around 11 am to Harrisburg South Middle School where parents were waiting to pick them up.
No one was injured besides Lein, who was released from the hospital Wednesday afternoon after suffering what Jim Holbeck, the Harrisburg School District superintendent, called a "flesh wound."
Holbeck reportedly said,
You really never know what this student would have done if they hadn't confronted him. If he already shot once, who knows?
The superintendent said the district engaged in annual training exercises to prepare staff members for possible crises.
Chad Birger, who played football with Rollinger at the University of Sioux Falls, said he expected such heroism from the assistant principal, Daily Mail reports.
Birger reportedly said,
I'm not surprised that he would put his life on the line for someone else.
Police currently believe the gunman acted alone. The gunman is expected to be charged at some point today.
Classes at Harrisburg High School resumed today as well.
Citations: Hero teacher tackled 16-year-old South Dakota school shooter who shot and injured the principal (Daily Mail), Heroes emerge from shooting at Harrisburg High School (Argus Leader)