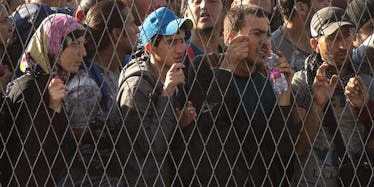 What I Learned After Traveling To Macedonia To Help European Refugees
Getty Images
With the European refugee crisis being discussed all across the world through broadcast news, social media and everyday conversation, I wanted to do something other than speaking and writing about the situation.
With a backpack much bigger than the ones most refugees carry with them when they leave their home countries, I left mine and went to Macedonia to help.
In Albania, Kosovo and Macedonia, I originally planned to find out why people would prefer the gruesome life of a refugee over staying in those countries. But, like most times in life, things happened differently.
Instead, I found myself in the midst of a temporary refugee camp distributing croissants.
The story begins on my first day in Macedonia, when I was browsing the Internet to find people who could tell me more about refugees in Macedonia. The first thing I found out was Macedonians themselves were not granted asylum in Europe in 2015. But, Macedonia is one of the main gateways to Europe for refugees arriving across the Mediterranean in Greece.
Right away, I met Lence Zdravkin, a Macedonian humanitarian who changed her entire life to help refugees who passed by her house — along the train tracks to reach the Serbian border in the north of Macedonia —on a daily basis. Opening her doors to strangers who arrived in Europe with nothing, Zdravkin became a local celebrity of compassion, and the whole community collected donations she now stores in her basement.
Watching people change their lives to improve the lives of others made all my previous efforts feel trivial. We all seek to be good people, but others are just better than us. When it comes to compassion, this good Samaritan taught me there is never enough love to be given, and an infinite amount of help is needed to fix this planet.
As refugees stopped using the train tracks by foot, Zdravkin started to welcome them in Macedonia at the border to Greece (two hours from her house) almost every day. She brought donations and her big heart for the struggles of many.
Zdarvkin told me about the Gevgelija train station, the first stop of trains going north past the Greek border. I knew I had to see it for myself after she showed me videos of around 4,000 refugees trying to get on a train to Serbia, in the small town of 8,000 people. It was completely haunting.
I arrived in Gevgelija with a private philanthropist who had loaded his car with water and bread to be distributed among the refugees at the temporary refugee camp. This man, being a Macedonian immigrant in Austria himself, took a little bit of his own wealth to bring it to others. And the reactions did not disappoint.
Of course, I knew refugees were traveling lightly, and they didn't bring water or cookies on their way to safety. But for some reason, I was still surprised by the migrants' receptions.
When the car doors opened, and the croissants started rolling, the refugees didn't remain in their tents. They ran to the car, grabbing whatever their hands could hold.
Children, women and mostly men pushed to the car, and in less than a minute, the full car had been unloaded without the help of a single employee. These people hadn't seen a secure source of food or drink in weeks, and even months.
According to the United Nations High Commissioner for Refugees (UNHCR) employees at the camp, most of the Syrian refugees they host are educated people. Doctors, scholars and highly-regarded officials were part of the crowd just as much as anybody else was.
In that moment, I realized even people with great, prosperous lives had exchanged their wealth for safety. They were risking their lives in the Mediterranean and on foot in Europe, only to have a shot at survival.
One doctor from Aleppo found the right words:
I knew I was potentially going to die trying to reach safety in Europe. But if I had stayed in Syria, I'd be dead already.
Just because these refugees have smartphones, it doesn't mean we should have any reservations about accepting them as people in need. These migrants are by no means economic cowards who want a bigger piece of the pie.
If they wanted prosperity, they would have done well to stay in Syria. But their Syria, their home and their safety doesn't exist anymore.
As a bystander, you can never get close to understanding.
I left my home and migrated to a place with better prospects, but I never had to. I was, in fact, never confronted with the possibility of losing my life, or my heartbeat, to anything.
The things that are possible when fear starts reigning your life are incomprehensible for a European woman like me, who has no experience with this fear. The fear our generation has about unemployment, commitment issues or retirement is incomparable to the fears of these refugees.
Aliya, a 16-year-old from Kobanê, told me about how her family fled the Islamic State, which was decapitating people in the town square adjacent to her family's house, earlier this year.
Of course, my life doesn't become better because others suffer more than me. When I suffer, I suffer differently.
But after meeting the refugees, I realized I wanted to help others in need. Not all of us are able to open our hearts for those who are suffering, but we should.
There is no such thing as irrational fear, but there is more drastic fear than the one most of us experience.
To be emphatic toward other people's fears and struggles can only teach us one thing about ourselves: We don't get to be afraid. Life usually doesn't ask if we want to be faced with tough situations. We have to go through them, anyway.
If a Syrian teenage girl can carry her three brothers across Turkish mountains, Greek seas and European train tracks, I can face the challenges of Generation-Y.
And in the end, our suffering isn't the only one out there.
So, there can only be one message: We need to be kind to one another, especially to those who are greatly suffering.