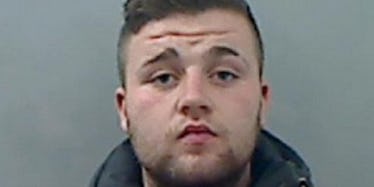 Guy Has Sex With Teen After Seducing Her On FB With 'Sexy Pics' From 'Fat Boy'
Police
A pedophile was jailed after using different pseudonyms on social media to lure underage girls into sending him "sexy pics" online.
Charles Declan Lindley was put under a sexual risk order in 2015, but managed to use the false names to tempt females as young as 13 years old to send him sexy pictures of themselves.
He went by the name "Fatboy 46" on Instagram and "Charlie Simpson" on Facebook after being registered as an offender.
During his illegal sexual endeavors, Lindley asked a 15-year-old girl for an explicit selfie and ended up having sex with her.
The 20-year-old admitted the crime last year and was sentenced to three years in prison.
His sentence was extended when Lindley attended a hearing at Teesside Magistrates' Court last week.
Apparently, the pedophile pleaded guilty in court when asked about his fake social media accounts, even though he claimed his Facebook account was no longer active.
Police said the account under his pseudonym was still being updated, though.
That wasn't the only rule Lindley broke after being placed under the sexual risk order. He also pleaded guilty of moving in with his mom when he wasn't supposed to change his address.
The sex offenders' register he was placed under in 2015 required him to inform police about his whereabouts before after changing addresses — and he did not adhere to that law.
After Lindley pled guilty to the offenses, District Judge Martin Walker added three months each to every additional charge he received in court.
Those charges will be added to the original three-year sentence he received after pleading guilty to having sex with a 15-year-old while under the sexual risk order.
Now, "Fat Boy" of Loftus is expected to be released from prison in May 2018.
But, there is a possibility the pedophile could be released as early as January 2018 if he's eligible for an early release on a tag.
Citations: Paedophile who called himself 'Fat Boy' and pestered girls as young as 13 on Facebook and Instagram for explicit selfies before having sex with a 15-year-old girl is jailed for three years (MailOnline)