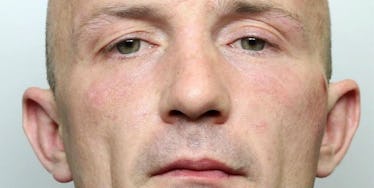 Guy Breaks Into Woman's Home After Bad Date: 'Your Bed's Full Of Piss Haha'
Leeds Crown Court
There are plenty of rational ways to move on from a relationship that isn't working out. Peeing in your ex's bed is certainly not one of them.
Gareth Quinn, 32, became resentful after a woman he'd met online called things off -- and oh man, he did a lot more than urinate on her comforter.
According to Metro, the 32-year-old creeper from Scotgate Road, Honley, took extreme measures after a fling ended, and his behavior will make you want to delete your Tinder profile.
First, he allegedly started harassing the female -- whose name hasn't been reported -- and then posted her phone number on adult websites.
Then Quinn found out she would be out of town on August 19, so he did what all sane people do: He broke into her house through a window.
After making his way to her bedroom, he not only peed on her bed, but he also stole a bottle of alcohol, two tablets, a credit card and two sex toys.
Are you sufficiently grossed out? Because I am.
Here's the kicker: The victim's 17-year-old daughter was home the entire time, and she didn't even know Quinn was there.
The sicko thought he'd gotten away with his crime, and continued to message the woman.
Howard Shaw, a prosecutor at Leeds Crown Court, confirmed Quinn had sent the woman a series of taunting messages on WhatsApp that displayed a photo of her sex toys and alcohol.
It said, "Are these yours?"
WTF.
After asking who was sending the messages, Quinn replied and said,
You'll never know but I've been in your yard. I'd not go in, your bed's full of piss ha, ha.
Nope, not OK.
Apparently, the woman immediately knew she was talking to Quinn, and she called the police.
The next day, he was arrested. He was released on bail under the condition that he wouldn't contact his victim.
His freedom didn't last long, though, because he texted the woman the following day using the same exact phone as before.
After that, Quinn admitted to burglary and witness intimidation, and was sentenced to three years and 16 weeks in prison.
Citations: Metro