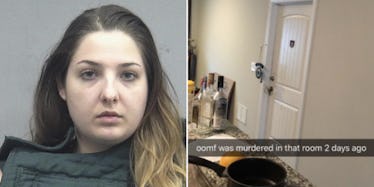 Guy's Live-Tweets Of Finding Out Roommate Murdered BF In Apartment Go Viral
Gainesville Police Department/Twitter
How would you react if your apartment suddenly became the scene of a suspected murder, and your roommate was the alleged killer?
A man from Gainesville, Florida, live-tweeted his pure shock as his home turned into the site of a murder investigation.
His roommate, 24-year-old Katherine Jean Tonner, is being held in the Alachua County Jail over the death of her boyfriend, Jose Ricardo Ortiz III, The Gainesville Sun reported.
In a crazy thread, Twitter user @chaserojo broke the news to his followers before adding a series of shocking and creepy updates over the days that followed.
He told Elite Daily,
I really didn't expect this to blow up like it did. I'm bad at reacting to serious situations so I thought I could just go to Twitter. They were dating ever since I moved in in August. Idk how long before that but apparently they broke up a week or two prior to this. I literally can't fucking believe it happened.
His initial reaction to the killing was, unsurprisingly, pure shock.
And the magnitude of the incident seemed to have hit home when he tweeted a police mugshot of Tonner.
Amid the chaos, he was moved into a hotel, allowing detectives to investigate his home.
This sounds like something straight out of a Netflix crime documentary…
It was a tough time for the roommates.
But it made moving out a pretty easy decision.
NOPE.
According to the Gainesville Sun, Ortiz's body was discovered by another roommate, who heard three loud bangs and then a fire alarm going off.
Tonner later called 911 to say she was suicidal and had shot a man. In an interview with a sheriff's deputy, she said "I shot him in the head" and "I never meant to hurt anyone."
Tonner did not identify 26-year-old Ortiz as the victim, only saying she loved the man she had shot.
Citations: Police: Woman, 24, charged in ex-boyfriend's murder (The Gainesville Sun)