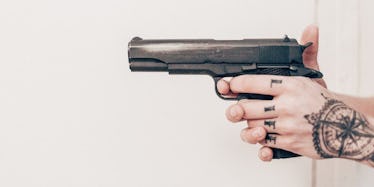 Gun Rights Groups Are Planning A Mock Mass Shooting At The University Of Texas
Two gun rights groups are planning on staging a mock mass shooting at the University of Texas this weekend, in what may be the most insensitive move ever.
According to Statesman, local groups Come and Take It Texas and DontComply.com will play out a mass shooting scenario at the school, using cardboard 'weapons,' fake blood, and amplified gunshot sound effects to mimic a school shooting.
The goal of the demonstration, according to the event organizers, is to show carrying a concealed weapon promotes safety, especially in a life-threatening hostage situation like the one in San Bernardino last week.
Come and Take It Texas spokesperson Matthew Short argues,
Criminals that want to do evil things and commit murder go places where people are not going to be able to stop them. When seconds count, the cops are minutes away… [The] people [in San Bernardino] were able to be murdered because no one was armed.
Short and the gun rights groups support Texas' recent legislation allowing registered firearms owners to carry concealed weapons in dorms and in other university buildings.
However, University of Texas professor Joan Neuberger, who opposes the legislation, says,
Staging a mass shooting during an anxious time for students — finals week — not only breaks rules but shows real disrespect for the feelings of student, faculty and staff who don't want to have guns around in the first place, but will be forced to put up with guns in public places in 2016.
A spokesman for the university said the demonstrators will be asked to leave if they follow through with their planned mock shooting.
Citations: Gun Rights Groups Are Hosting a Mock Mass Shooting at University of Texas (Cosmopolitan), Gun Rights Groups Plan to Stage a Fake Mass Shooting at University of Texas (Complex)