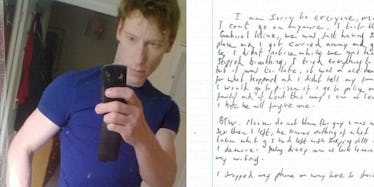 Grindr Killer Found Guilty After Leaving Date's Body With Fake Suicide Note
Met Police/ Old Bailey Courtroom
A sex-addicted man accused of luring Grindr dates into his apartment before killing them with GHB has been found guilty of murdering three men in his London residence.
Stephen Port, 41, allegedly murdered Daniel Whitworth, Gabriel Kovari and Jack Taylor, MailOnline reports. All three victims died of GHB overdoses enforced by Port.
Apparently, the killer began by spiking their drinks with the date rape drug or injecting it into their backs before having sex with their lifeless bodies.
Port left a fake suicide note in the hands of his last victim, 21-year-old Whitworth. The handwritten letter framed Whitworth for the death of Kovari, the 22-year-old man Port also murdered.
It's been reported Kovari was staying at Port's apartment as a temporary roommate before he died.
After Port killed Kovari, he allegedly took his body to the Barking Abbey graveyard and left him there. Soon, Kovari's corpse was discovered by a dog walker.
To cover the murder, Port lied about Kovari's heath and allegedly stated he died of an infection in Spain.
Three weeks later, the same dog walker (who probably hasn't walked his dog in that area since) stumbled across another body, and this time, it was Whitworth's.
Whitworth was found with a fake suicide note in his hand that was written by Port. The note framed Whitworth for Kovari's murder.
It pleaded "not to blame the guy I was with last night," and read,
We was having some fun at a mate's place and I got carried away and gave him another shot of G.
After he became the suspected killer of Whitworth and Kovari, Port was accused of murdering 25-year-old Jack Taylor after footage emerged of the two hanging out hours before Taylor's alleged death.
Port was convicted of three counts of murder, seven counts of administering a poison, three rapes and three counts of assault by penetration in the Old Bailey courtroom.
Citations: MailOnline