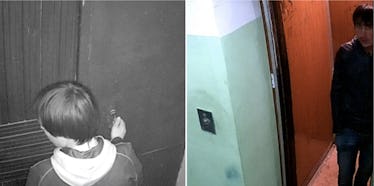 'Granny Strangler' Serial Killer Caught Planning Next Attack In Creepy Video
YouTube/N Vi
New footage may reveal the identity of a serial killer who has strangled 32 elderly women — "female pensioners," as MailOnline refers to them.
The suspect has been on the run from police ever since he murdered the women in Russia's Urals region in 2011 and 2012.
But creepy surveillance footage taken in an apartment in Kazan in October has prompted fears he could strike again, and police have reissued images of the suspect.
Despite the lull since his killing spree, police have also released the footage of a man who might be responsible.
In the clip, the man, who is believed to come from the Udmurtia region, can be seen roaming around an apartment block in Kazan.
Investigators think surveillance footage of him peering through doors could be part of a new plot.
All 32 of his victims were aged between 75 and 90, and it is unknown what the killer's motive is — as small sums of money were only taken occasionally after the murders.
Police believe he had a list of addresses for elderly people and knocked on their doors, in some cases telling them he was from the council.
Officers have also offered a reward of $50,000 for information that leads to him finally being caught.
Senior Investigator Ivan Streltsov said,
We have serious grounds to suppose that he is a resident of Udmurtia. For any information that helps to identify the criminal, we guarantee a payment of 3 million roubles. If needed, we will guarantee anonymity.
He said serial killers "can never stop themselves," and if they are unable to catch the man, he could kill again.
Another belief about the mysterious serial killer is he is a copycat killer taking inspiration from Irina Gaidamachuk, who was nicknamed "Satan in a skirt."
Russia's worst-ever female killer, Gaidamachuk was jailed for 20 years for killing 17 elderly women — murders that also took place in the Urals. She, too, pretended to be from a local council.
A police description of the man has him aged 27 to 33, about 5 feet, 6 inches with a slim body, dark hair, dark eyes, straight nose and average-sized lips.
Citations: 'Granny-killer' who strangled 32 elderly women 'is caught on camera': Police fear man seen prowling around Russian apartment block could be serial killer (MailOnline)