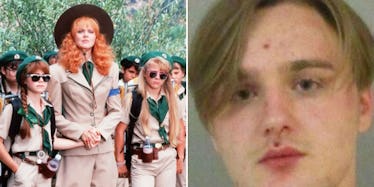 Teen Brothers Destroy Girl Scout's Cookie Stand, Snatch Cookies Over $20 Debt
REX/Shutterstock/Flagler County Sheriff's Office
When I see a couple of Girl Scouts outside my local trading post, stationed up with their wares and rocking their badges, I normally think something like, "Oh, they're so cute."
Or I think, "I'm glad the Girl Scouts exist, not only for their delicious cookies, but for all the great things they do for young women."
I don't usually attack them to get $20 back from their mom, but you know, I'm not from Florida.
The family of a Girl Scout was outside of a Palm Coast, Florida Walmart on Saturday when they were approached by 18-year-old Daniel Kennedy, his 16-year-old brother and their mother Erin Kennedy.
The Kennedys informed Thomas Ketchum Sr., 49, his daughter owed them $20. Lisa Ketchum, 47, said they didn't have the money to pay them.
The Kennedys then demanded to be paid in cookies.
When the Girl Scout's family refused to hand over the goods, the Kennedy brothers started to destroy the cookie stand.
They flipped the table and snatched some boxes of cookies, as you do.
Daniel Kennedy allegedly began punching toward Lisa Ketchum and when Thomas stepped in, he allegedly attacked him. He suffers from a sprained neck and shoulder.
Then, Daniel Kennedy was so fueled by his need for cookies, he turned on Lisa's 15-year-old son who tried to protect his mother.
Daniel allegedly punched him and shoved him into a concrete wall. Lisa was hit in the head a number of times before two women driving by stopped to intervene.
Daniel was arrested and charged with disorderly conduct and three counts of battery.
His unnamed brother was arrested and charged with disorderly conduct and one count of battery.
Maybe the legal fees aren't going to be worth the $20 they were supposedly owed. That said, if I don't get my Thin Mints soon, I'm about to bust some kneecaps.
Citations: Report: Florida teens start brawl over Girl Scout cookies, $20 debt (My Statesman)