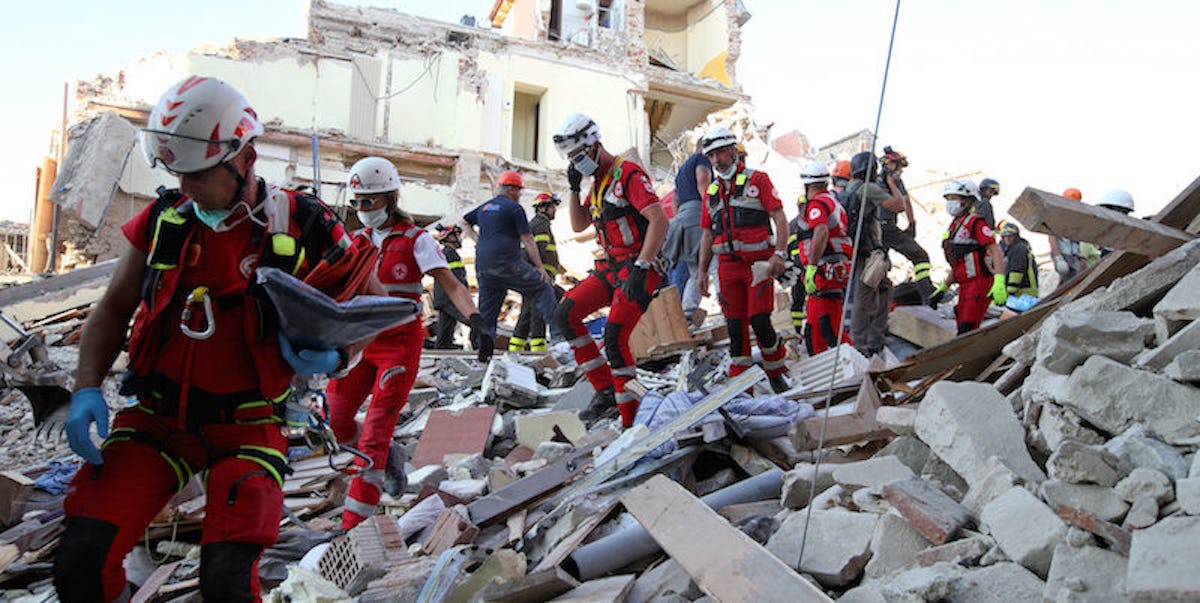 Powerful Video Of Girl Being Pulled From Earthquake Rubble Has World Cheering
REUTERS
Rescue operations are continuing in Italy. A 6.2-magnitude earthquake struck the central regions of the country early Wednesday morning.
The earthquake caused a massive amount of damage. Blocks of towns in central Italian cities were completely destroyed.
The regions of Umbria, Lazio and Marche were most affected, with tremors felt from Naples to Bologna. The towns of Amatrice and Accumoli in Lazio were very heavily affected.
Aftershocks continue to affect the region, hampering rescue and emergency operations.
241 people were killed by the earthquake as of Thursday morning, according to the BBC.
People are still trapped under rubble. Over 4,300 rescuers are working to recover them.
Although the death toll may still rise as bodies are uncovered, rescue operations are also saving people, like one 10-year-old girl in Pescara del Tronto.
The town was horribly damaged by the earthquake on Wednesday.
The girl was trapped under the rubble for 17 hours as rescue operations continued.
Her dust-covered legs poked out from under debris as rescuers worked on getting her out. The video shows them advising the rescuers to be slow as they carefully pull her out.
When a firefighter gets her out from under the rubble and it's clear she is still alive, the rescuers shout excitedly and applaud. It's a truly inspiring moment.
As the people continue exclaiming for the rescue, one man shouts,
The beautiful girl!
She holds onto the firefighter as he holds her closely and carries her down a mountain of rubble.
According to Sky News, firefighter Danilo Dionisi said,
The 10-year-old girl was just pulled out now from the rubble and she is being taken to the hospital and that is good news. As far as the rest is concerned, the images speak for themselves, you can see what the town looks like.
Like Dionisi said, although these moments of rescue are, of course, heartwarming and jubilant, the towns are still facing a massive amount of damage to both buildings and lives.