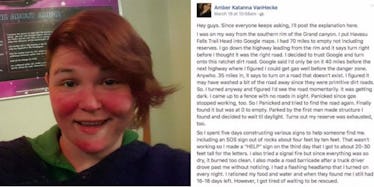 Girl Lost In Desert For 5 Days Reveals One Survival Trick That Kept Her Calm
Facebook
One vacation almost turned deadly for a 24-year-old Texas student.
Amber VanHecke described the incredible story of how she survived in the Grand Canyon for five days after her car ran out of gas.
She left for her hiking trip on March 10, planning to travel near the Canyon's South Rim in Arizona. Her GPS soon ran out of battery after it led her down a road that didn't even exist.
Shortly thereafter, her car ran out of gas.
On March 12, she was officially stranded.
VanHecke spent the next five days waiting for someone to find her, surviving off emergency food and water in the meantime.
On March 17, she abandoned her car and walked 11 miles in an attempt to find a phone signal so she could call for help.
The 24-year-old was eventually rescued by an air ambulance pilot while walking back to her car, where she left behind notes indicating she needed help and rocks spelling out "Help" and "SOS."
Before embarking on her trip, VanHecke posted pictures on Facebook in her car, which was stacked with food, pillows and blankets.
Just over a week later, she posted again to tell the story of how she managed to survive five days alone in the desert with dwindling supplies.
VanHecke, who says she's always been an avid reader, told Elite Daily her books helped her survive the traumatic experience.
She said,
I frequently used books as an escape. This misadventure proved no different. I spent my down time reading so I would not catch myself over thinking myself in to a state of panic.
The Texas native burned through the last of her car's gas trying to find her way back after the GPS led her down a nonexistent road.
Jonah Nieves, a member of the Air Rescue team with the Arizona Department of Public Safety, eventually rescued the 24-year-old.
He said,
She ran out of gas, but she was a survivor. She did a lot of things that helped her survive.
During the time she was stranded, VanHecke rationed her remaining food wisely and flashed her headlamp into the sky at night.
However, it was the notes VanHecke left behind on her car that led to her rescue.
Nieves spotted her empty vehicle glinting in the sunlight after 40 minutes in the air.
He said,
If she didn't leave notes, then you're like, 'Is this the person we're looking for?' There are a lot more questions up in the air.
He then found VanHecke by the side of the road, where she was waving to his helicopter and crying with joy.
She was given the all-clear after being taken to the hospital.
Following the terrifying ordeal, VanHecke told Elite Daily she feels anxious more often now.
She explained,
It's hard to fall asleep and stay asleep because I don't want to wake up in the desert alone again.
Still, the young adventurer remains positive. She said,
I will still travel because one bad experience won't stop me from nourishing my soul with worldly experiences.
She advised travelers embarking alone on similar trips to always bring more water than you think you could possibly need, a gas can and a hard copy of a map of the area.
The 24-year-old also recommended carrying a light with a strobe function so you can be seen at night, as well as something reflective for morning discovery.
Citations: The incredible survival story of woman who ran out of gas near the Grand Canyon and used her wits to stay alive while she was stranded for FIVE DAYS (DailyMail.com)