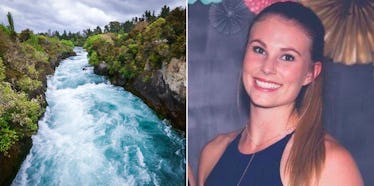 Stranger Takes Haunting Last Photo Of Girl In River Moments Before She Drowns
Shutterstock/ Facebook
A group of young women tried to escape a raging river as two horrified tourists watched them struggle from afar.
The tourists watched Rachael Louise De Jong and her friends as they tried jumping from one rock to another in the fierce waters of the Aratiatia Rapids in Waikato River.
The group of girls — who huddled on a rock in the middle of the rising current — took turns jumping from one boulder to another where a man tried dragging them out of the river, Stuff reports.
The tourists, Katrin Taylor and Kevin Kiau, watched the nightmarish scene from a safe platform and snapped a photo of the girls before De Jong was swept away and killed by the torrent.  
Apparently, the tragedy took place moments after sirens rang throughout the rapids, warning swimmers the floodgates were opening soon.
Once the floodgates are released, the water rises at a fast pace and the rapid become dangerous.
Taylor said once the water began to rise, they noticed the girls standing on a rock holding selfie sticks, stranded in the middle of the river.
He described the moment, saying,
We could see the water was rising further and that they were in danger of getting washed away.
They watched in shock as each girl, one by one, tried jumping from one rock to the other.
Taylor said two of the girls made it across the river safely with the help of the man on the boulder. However, once the third girl made it across, she and the unnamed man were both swept away in the current.
There was only one female left on the rock, but she disappeared in the water shortly after.
Taylor added,
There was still one girl left in the middle of the river. I'm not sure if she tried to jump, or the water was already too high, but she was gone pretty quick without making it to the safer rock, to the larger one.
It's been reported someone nearby called an emergency number, 111, and police fled to the scene.
They found the body of 21-year-old Rachael Louise De Jong in a rockpool down stream on February 6.
De Jong's death was one of seven water-related deaths in five days.
Jonty Mills, chief executive of Water Safety New Zealand, noted the importance of people knowing the dangers of the rivers where they're swimming.
He said,
People need to know the local conditions, and understand local conditions. Rivers are certainly an area of concern. They made up nearly 30 percent of preventable drownings.
Rest in peace, Rachael.
Citations: Horrified tourists watch swimmers desperately try to save each other from raging Waikato River (Stuff)