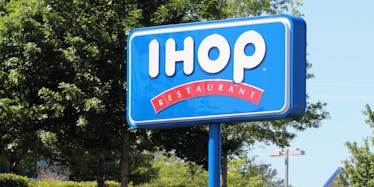 A Massive Hole Just Formed In An IHOP Parking Lot And No One Knows Why (Photo)
Shutterstock
The parking lot of a Mississippi IHOP caved in over the weekend, swallowing over a dozen cars in the process.
According to USA TODAY, the collapse occurred a little before 7:15 pm on Saturday in the eastern city of Meridian following weeks of heavy rain.
Customer Gwendolyn Fikes told The Meridian Star the power went out before she and her daughter "heard a boom."
Her daughter's Honda Accord was one of approximately 15 sedans, trucks and SUVs that fell into the ditch about 15 feet deep, 35 feet wide and 400 feet long.
No injuries were reported.
Meridian Public Safety director Buck Roberts was careful to note this particular incident cannot technically be classified as a sinkhole.
A sinkhole is usually caused by an underground water aquifer drying up and forming a hole in the soil.
Roberts told The Meridian Star,
You can call it what you want, a cave-in or whatever, but it is not a sinkhole.
The cause of this collapse is yet to be determined, but an official believes a significant role was played by the 10 inches of rain Meridian received over the past two weeks, including on the day of the collapse.
On Sunday, engineers were still trying to fix a water main underneath the parking lot that broke open likely as a result of the collapse.
Another possible factor may have been the ongoing construction in the area.
The IHOP only opened last week, and a hotel is currently being built next to the restaurant, which is now closed.
Roberts said,
The restaurant will open as soon as it is safe. That may be days, weeks or a month.
The affected vehicles were reportedly still in the ditch on Sunday.
According to Roberts, crews will only be able to pull them out after the soil dries up and the rain stops for a considerable amount of time.
Citations: Giant cave in swallows cars in IHOP parking lot (USA TODAY), Engineers to try and determine cause of sinkhole (The Meridian Star)