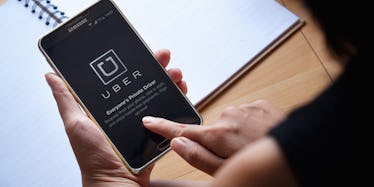 Here's How Much Money You'll Get Back From Uber Thanks To This Lawsuit
Shutterstock
After settling two lawsuits amounting to $28.5 million, Uber will be giving that money back to its users. The lawsuits address the misleading language Uber uses to describe its safety measures, including "safest ride on the road" and "industry-leading background checks."
The Washington Post reports the lawsuit alleged the ride-sharing service did not check drivers against the national sex-offender registry, nor did it use fingerprint identification. As a result, the "safe rides fee" Uber charged for every ride was considered unjust.
So, if you took a ride with Uber at some point in the last three years anywhere in the US, you're entitled to a chunk of that multi-million dollar settlement.
Before you start putting big screen TVs on layaway, though, know that chunk will likely be very small. On average, we're talking $0.82 small. On the bright side, that's still enough to buy a stamp, and mailing letters is so retro!
Keep an eye out for a random bonus dollar, as Uber will be depositing cash directly into users' bank accounts.
Citations: Uber is about to pay its U.S. riders $28.5 million. Here's why. (The Washington Post)