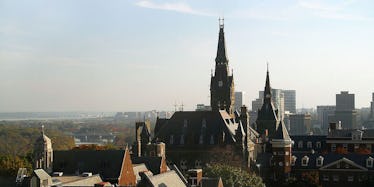 Georgetown Tries To Make Up For Selling 272 Slaves With A New Admissions Plan
Wikimedia Commons
Two hundred seventy-two slaves were sold by Georgetown University to pay debts the school owed in 1838.
This was a massive sale of humans. Without this sale, the Catholic and Jesuit university as we know it today might not exist. Those 272 slaves' lives were sold to save Georgetown.
Now, 178 years later, Georgetown is trying to make up for that horrific use of black lives.
The school will be offering preferential status in admissions for applicants who are descendants of the slaves that saved, built and worked at it, the New York Times reported.
Georgetown is giving the descendants the same admissions preference that children and grandchildren of university alumni are given.
The university will also be issuing a formal apology and making an institute for the study of slavery.
The face of the campus will change as well. A public memorial for slaves will be erected and two buildings will be renamed for an enslaved African-American man and a Catholic African-American educator.
Many universities, especially in the east and south of the country, are confronting their own histories of slavery and racism.
The University of Virginia, for instance, was built by slaves, and slaves worked for students and faculty. Last summer, the school announced that it is naming a new building after a former slave couple. Additionally, rather than be vague or hide the history, tours of the campus are open about slavery.
Slavery and racism are embedded on many college campuses. Buildings are named after white supremacists and slave owners, which can be alienating for black students on campus, to say the least.
Yale University launched a committee to rename buildings on campus this year following a protest over Calhoun College, which was named after John C. Calhoun, an advocate of slavery.
According to the Times, this is the only instance of preferential admissions treatment a school is offering to make up for a history of slavery. In addition to making the Georgetown campus more open to current black students, this method potentially makes it more welcoming to more applicants.
Universities struggle with the recruitment of minority, rural and low-income students (for a variety of reasons, which includes a lack of prioritization). But by giving the descendants of Georgetown slaves preferential status in admissions, a more diverse student body could emerge.
The concept of a diverse student body being beneficial to everyone's education was upheld by the Supreme Court this summer in the Fisher v. University of Texas case. The court ruled that affirmative action is still legal.
But many people are arguing that Georgetown's admissions step isn't all that great.
The preferential status equates descendants of slaves to descendants of alumni — indicating that alumni and slaves contributed equally to the school. This doesn't add up, given that 272 people were sold to save the school. No alumni were similarly used.
And descendants still have to pay the school if they get in, which seems counterintuitive to the idea of giving back for their ancestors' use.
Citations: New York Times, New York Times, Huffington Post