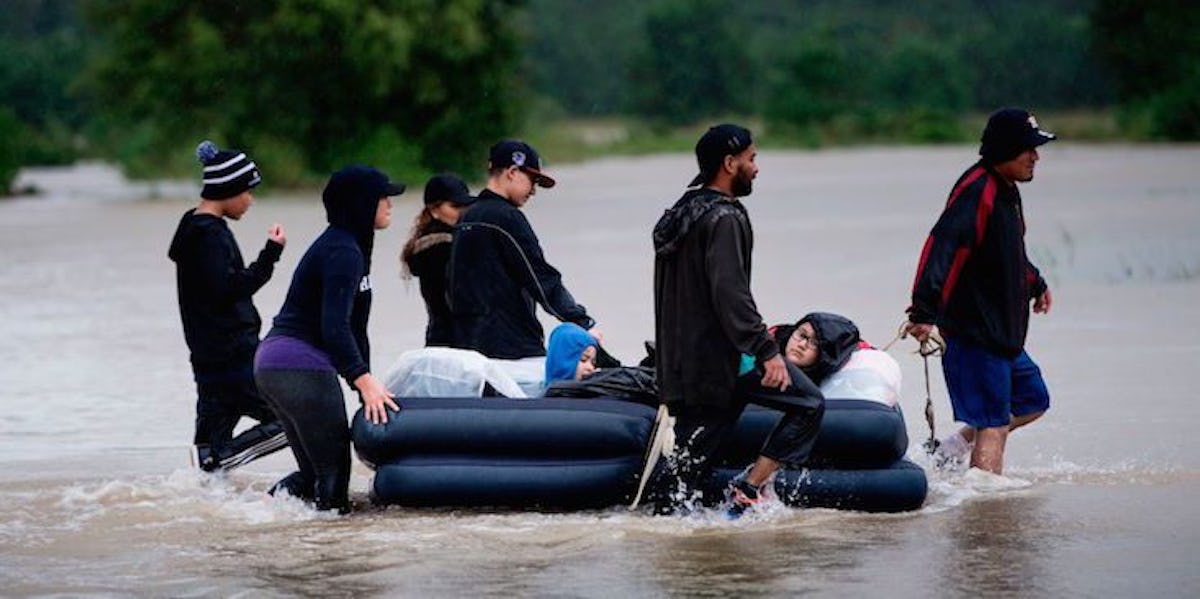 A Furniture Store Opened As A Harvey Shelter And Is The Internet's New Hero
BRENDAN SMIALOWSKI/AFP/Getty Images
As damage continues in Texas and Louisiana from Hurricane Harvey and more and more devastating stories emerge, it's always helpful to find the good. And Jim "Mattress Mack" McIngvale is part of the good in Houston, Texas. McIngvale opened his store, Gallery Furniture, as a shelter during Hurricane Harvey.
Over the course of the storm, he's taken in about 300 evacuees in one of the stores, according to CNN, and he has two stores open for people who need shelter. Gallery Furniture is a furniture store and showroom outside of Houston, so the 300 people staying there have plenty of couches and beds to use as they wait out the storm.
The 66-year-old "Mattress Mack" is a semi-famous personality in the area for his store -- and the absurd commercials for it -- as well as for his philanthropic work. He's had his store for 36 years, and he opened the stores as shelters as a way to give back to the community for the success they've given him, an employee told CNN.
"This is Houston," the employee, Dave Marchione, said. "That's how Houston rolls."
Gallery Furniture announced that its locations would be open as shelters in a Facebook post on Aug. 27. The Facebook post read,
We have food, beds and clean restrooms for anyone in need who comes to those locations. Kenneled animals who must stay in kennel and at owners side are welcome.
"They're sleeping on hundreds of mattresses throughout the store. They're sleeping on the couches — wherever they can find a place that's comfortable, and God bless 'em," McIngvale told NPR.
Gallery Furniture also had delivery trucks going around on Sunday to rescue people and bring them to safety in the store.
That's not all. McIngvale is also getting portable showers so his temporary residents can clean up in hot water.
People across the internet have been incredibly moved by McIngvale's support for Houston, especially in comparison to Joel Osteen, who was criticized for keeping his Houston megachurch closed to storm refugees (he claims he couldn't because it was "inaccessible due to severe flooding" and because Houston "didn't ask us to become a shelter").
It's goodwill like that of McIngvale that helps us all move forward. And just for good measure, here's one of Mattress Mack's commercials: