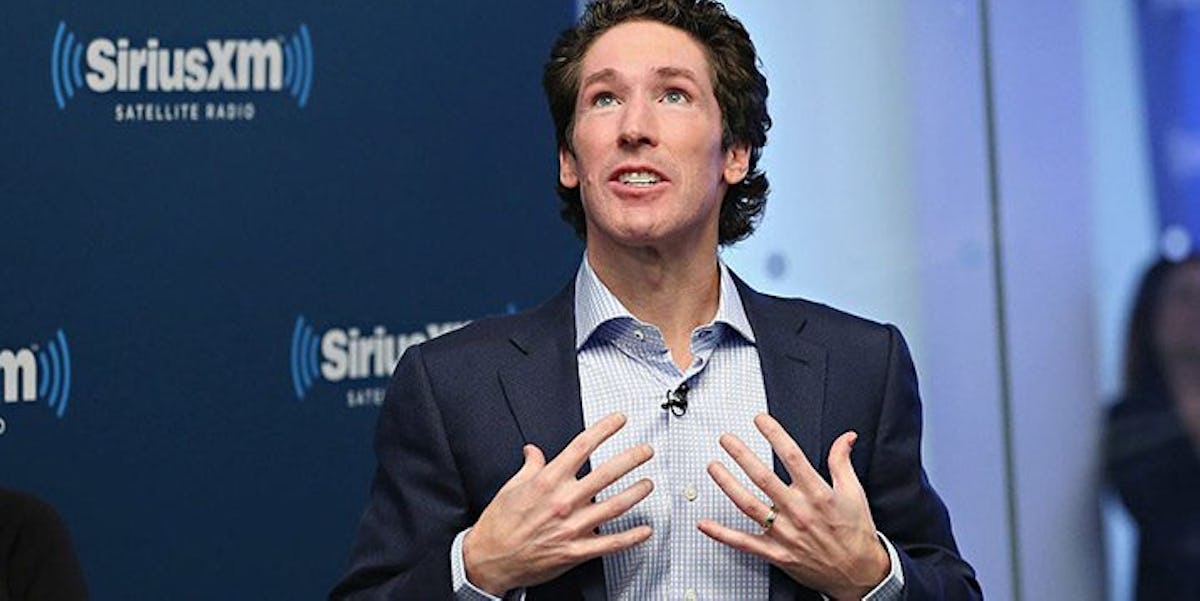 Houston Megachurch Gets Flamed On Twitter For Not Opening Doors For Flood Victims
Photo by Cindy Ord/Getty Images
A day after becoming a controversial figure within the social media discourse about Hurricane Harvey, tweets about Joel Osteen's Houston church have now gotten a response. On Tuesday, Aug. 29, Osteen shared a tweet of his own announcing that the place of worship he pastors -- the 16,000-seat Lakewood Church -- was now open to those who needed shelter from the Hurricane. Osteen wrote,
Victoria and I care deeply about our fellow Houstonians. Lakewood's doors are open and we are receiving anyone who needs shelter.
Victoria Olsteen is the pastor's wife.
Why was Osteen criticized?
Joel Osteen's message came a day after he was roundly criticized on social media because the doors of his church were not opened sooner, particularly as the number of those in need of shelter in Houston continued to rise.
On Sunday, Lakewood's official Facebook page posted a message announcing that its facility was "inaccessible due to severe flooding." On Monday however, Twitter users posted videos and pictures that showed the exterior of the Lakewood Church with dry roads surrounding the building.
Those videos seemed to fuel criticism about the church remaining closed. Many critics also pointed out Osteen's net worth, while expressing disgust at the fact that Lakewood was not doing more to help refugees.
Here's what some critics had to say.
Lakewood would soon respond.
On Monday night, the church provided an update on the status of the church. Lakewood also responded specifically to the criticism it had been receiving on social media.
A spokesman for the church, Don Iloff, told the Houston Chronicle,
It's not our unwillingness, it's just practicality. It's been a safety issue for us. Lakewood Church has a heart for this city.
Via its Facebook page, Lakewood announced that its doors would open on Tuesday to collect supplies that would be used to help those displaced by the hurricane.
Later in the day, another update would come. Here are the tweets Pastor Osteen shared on Tuesday:
Prior to opening its doors, Lakewood provided pictures that showed some parts of its property flooded.
Still, the church is now opening to receive people who need shelter, a day after getting slammed on social media for not doing exactly that.