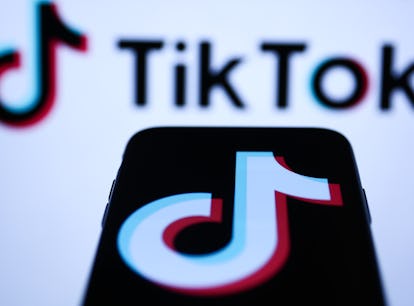 10 Funny Trickster Voice Effect TikToks For A Good Laugh
Every story is made better by this voice filter.
NurPhoto/NurPhoto/Getty Images
It's only been about a month since the Trickster effect made its debut on TikTok, but the viral voice changer doesn't seem to be going anywhere. It feels like every other video on the FYP uses the voice effect for a cartoonish spin, but thankfully the goofy feature hasn't lost its charm yet. In fact, users have found so many unique ways to incorporate the Trickster sound into their TikToks that the quirky voice has only gotten funnier over time. If you can't get enough of the cartoon sound, there are some super funny Trickster voice effect TikToks to check out when you need a good laugh.
It's no surprise the Trickster voice has seen a spike in popularity since its debut on the app in November 2022. Just like the other voice changer effects on the app, Trickster can be used on pets, people, music, movies, and so much more. Though the feature is sure to give your already-silly video an extra hilarious boost, one of the funniest ways to use the voice changer is to use it on an otherwise-normal video, because, why not. You can also use the effect on videos that contain more than one voice, despite the fact that there's only one Trickster effect to play all the parts. That being said, there's no right way to use the Trickster effect, as proven by the dozens of voice changer videos taking over the FYP.
Whether you're an OG Trickster effect user or have yet to get the test feature, these TikToks expertly using the voice filter will keep you laughing while you scroll.
Despite its popularity, not everyone has been able to access the Trickster voice effect. According to TikTok, it's likely that the popular effect isn't available to everyone yet because it's still in the testing phase. It's hard not to have FOMO if you're not in test, but thankfully there's no shortage of Trickster content on the app to keep you laughing while you wait for a widespread rollout.