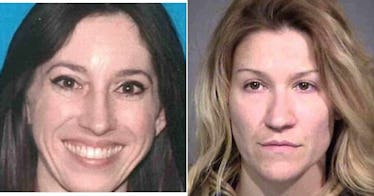 Woman Framed For Craigslist Rape By Ex's Wife Speaks Out: 'Apologies Don't Undo'
Orange County District Attorney's Office
Last month, we told you about the twisted revenge plot carried out by Angela Diaz, who framed her ex-fiancé's new wife, Michelle Hadley, for stalking and rape.
To give you a quick recap, Hadley, 30, was engaged to an unnamed 39-year-old deputy US marshal from 2013 to 2015. After the couple broke up in August 2015, Diaz, 31, married that man in February 2016.
From there, Diaz launched an elaborate scheme against the ex-fiancée in which she set up several fake email addresses and sent herself hundreds of threatening emails to make it look as if Hadley was harassing her.
As if that's not bad enough, Diaz then claimed Hadley was posing as her while responding to rape fantasy ads on Craigslist (if you weren't able to guess, that was actually all Diaz's doing).
Once Anaheim Police felt Hadley represented a serious threat to Diaz (oh, and her fake unborn child, because clearly she hadn't lied enough yet), she was arrested.
Now, after spending three months in jail, Hadley has officially been exonerated, and she's finally speaking out about the scandal.
In a TV interview with Dateline NBC, she described her experience in prison, as well as her current mindset after falling victim to such an awful, diabolical plot.
Hadley said,
Good luck sleeping in jail. The door slamming — it's very loud. And the women at night sometimes scream like banshees. So you'll hear it echoing throughout the jail. I appreciate the apologies. But the apologies don't rebuild your life and the apologies don't undo what's been done. I'll carry this around for the rest of my life.
The focus for Hadley and her attorney, Michael Guisti, is now set on fully clearing her name and holding the police responsible for not conducting a "true and thorough investigation."
Guisti, who called the elaborate scandal "the perfect storm of catfishing," told NBC's Dennis Murphy,
This is the reason why you become a lawyer.
Anaheim Police Department has since released the following statement:
We believe our actions were appropriate given the evidence known to us at the time. In addition, it was the efforts of the detective who ultimately uncovered the truth and led to Michelle's exoneration.
Deputy District Attorney Richard Zimmer told Dailymail.com:
This is actually one of the most unusual things I've seen in my career. The amount of planning, the effort, the sophistication, the amount of time that went into framing Ms. Hadley was incredible.
In the most satisfyingly ironic turn of events, Diaz is now being held in the same prison where Hadley spent three months of her life under the false accusations. She faces a number of felonies, including kidnapping, false imprisonment and filing false police reports.
Karma's a bitch, ain't it?
Citations: Woman Allegedly Framed in Craigslist Rape Fantasy Plot Tells Dateline 'Apologies Don't Rebuild Your Life' (People Crime), 'It's like your worst nightmare coming true': Woman who was jailed after being framed for stalking and orchestrating rape by her ex-fiance's wife breaks her silence (Daily Mail)