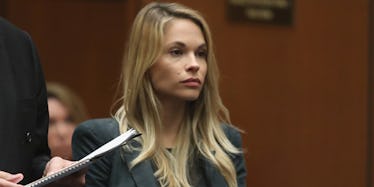 Former Playboy Model Who Body-Shamed Woman At The Gym Says She's "Not Sorry"
Frederick M. Brown / Stringer/ Getty Images
Dani Mathers, a former Playboy model who body-shamed a woman showering at the gym, spoke about the backlash she's been receiving since her offensive Snapchat story went live in July 2016.
During an interview with Us Weekly, Mathers said she's "not sorry" about what happened to her after sending the snap.
The 30-year-old claimed she regrets "that stupid choice," but believes the backlash she received after the incident was a "blessing in disguise."
She said,
I am sorry that it happened to this woman. But I am not sorry about what happened to me. I would not have this push to create positivity and try to change people's minds about how they act without thinking. My life flipped upside down. But it's a blessing in disguise.
Mathers told Us Weekly her experience "taught her a lot," and that she was unaware she was capable of hurting a stranger to such an extent.
When asked if she could speak with the woman she shamed, Mathers said,
A million things have run through my mind. But bottom line is: 'I'm so sorry.' I never intended to hurt her. There was a lot of pain caused and I think she would like to put this behind her, as would I.
Last week, the 70-year-old woman shown in Mathers' Snapchat spoke up for the first time through her lawyer, Los Angeles City Attorney Mike Feuer.
According to Feuer, the woman is still "humiliated," and asked for $60 out of the lawsuit to buy a new backpack with so people wouldn't recognize her.
After Mathers starting receiving "relentless" backlash from her Snapchat story, she decided to take a break from social media for about a year -- and apparently, she's learned a lot since last July.
Mathers said, "I don't ever want to be someone spitting hate. That's really what I've learned."
Overall, Mathers is sorry for what happened to the woman she shamed, but she appears to be embracing the mistake she made and is trying to better herself from it.