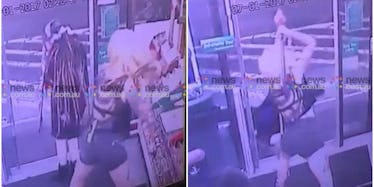 Terrifying Footage Emerges Of Man's Face Being Slashed By Woman On Axe Rampage
News.com.au
Terrifying CCTV footage has been released showing the moment when a woman hacked two people during an axe rampage at a 7-Eleven.
The attack took place at a store in Enmore, Sydney, at around 2:30 am on Saturday.
The video shows a woman lurking by customers near the till area before she lashes out at a man. She strikes his face with full force.
She then goes on to swing at a woman from behind the exit, hacking her twice before she casually walks off.
The man – identified as Benjamin Rimmer, 32 – suffered serious head and facial injuries. He is in the hospital, but in stable condition.
The female victim – Sharon Hacker, 43 – suffered a fractured skull. She has since described the madness.
She said the attacker "just came with full force and swung and struck the man across the face."
She explained,
Then [she] turned immediately around to me and again, with both hands, came through and struck me with the axe in the back of the head. And then as I was falling forward, [she] came in again and came down and struck me again. His face was completely opened up and bleeding profusely. I'm just very lucky that I have very thick dreadlocks.
A third person was targeted, but he only suffered damage to his clothes when the woman swung the axe at him.
Evie Amati, 24, has been arrested and charged with two counts of grievous bodily harm with intent in connection to the incident.
She was found by a police dog shortly after the attack. She was laying in the front yard of a property in a nearby street with an axe in her possession. A kitchen knife was also discovered.
Amati appeared in court via video link, and spoke only to ask for medication usually taken by those undergoing gender transition from male to female.
Citations: News.com.au