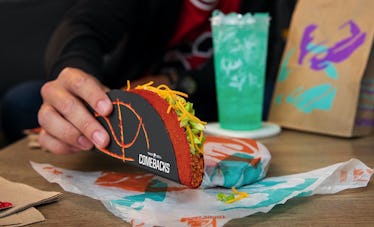 You Can Score A Free Flamin' Hot Doritos Loco Taco
Rewards members can get the spicy bite a day early.
Taco Bell
Taco Bell is heating the summer up with a tasty comeback and giveaway. During Taco Bell's new NBA Comebacks promotion, you can score a free Flamin' Hot Doritos Locos Tacos — and there's absolutely no purchase necessary. If you're ready to spice up game time, here's how to get free Flamin' Hot Doritos Locos Tacos from Taco Bell in 2021, because the fan-favorite treat is finally coming back to the menu.
Taco Bell shared details of its new NBA Finals giveaway on July 1, which is all about bringing back Flamin' Hot Doritos Locos Tacos. ICYDK, the fan-favorite bite, which first hit menus in April 2020 but only lasted for limited time, features a Flamin' Hot hard shell that's filled with ground beef, lettuce, and cheese.
During the 2021 NBA Comebacks promotion, getting your free Flamin' Hot Doritos Locos Taco is super easy. On Wednesday, July 22, all Taco Bell customers can score a free Flamin' Hot Doritos Locos Taco (regularly $1.89), thanks to the Milwaukee Bucks' comeback win in Game 6 of the NBA Finals on July 20. To get the deal on July 22, you can order in store, online, or on the app at participating U.S. Taco Bell restaurants, but it's not available with delivery. Taco Bell Rewards members can score the deal early on July 21 in the Taco Bell app.
Not only does first Stolen Game score you a free taco, but it also marks the return of Flamin' Hot Doritos Locos Tacos to nationwide menus on July 22 for a limited time. You can enjoy the spicy bites during your upcoming beach days or backyard chillin', all for only $1.89 per taco.
When heading to Taco Bell to spice up the summer, remember to keep in mind the CDC's most updated public health guidance.
This article was originally published on