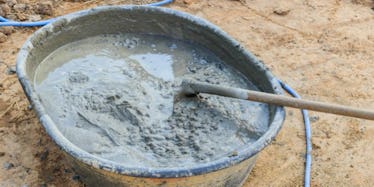 Man With Cement Fetish Stabbed With Machetes And Told He'd Be 'Chopped Up'
Shutterstock
A man was just trying to explore a cement fetish, by having the concrete mixture poured over him, when he was brutally attacked by two other men with a machete instead.
John Steven, 38, went to a home in Renfrew with the mindset that he would pay £150 ($188.06) to have cement poured over his body by whom he thought would be 34-year-old Sharon Kerr.
The two had known each other for almost four years, and she invited him to her apartment for the act.
Instead, he was attacked by Craig Dalton, 33, and Matthew Harrison, 23, who both have records of violence.
Steven was hit with a machete and he heard the men discussing him being "chopped up."
Advocate depute Shanti Maguire said there was a discussion between Kerr and Steven regarding the services (cement-pouring) that would "be provided to him."
They told the victim they had "access to a cement truck" and the "cement mix to pour over him."
Kerr went with Steven to a cash machine to withdraw the money and returned to the house. Kerr left him with a woman named "Michelle," then Dalton and Harrison showed up.
"Michelle" left the room before the two men attacked Steven. Dalton hit Steven on the shoulder with a machete, and Steven saw Harrison had a knife.
The victim remembers Dalton saying,
There's no way you're getting out of here.
Black tape was wrapped around the victim's face, and he heard threats of being chopped up. John handed the two men his cards and gave them his PIN numbers when Kerr returned and asked, "What the hell's happened?"
The three fled the scene, and Steven made his way out to the street where he collapsed.
Steven suffered from wounds to his hands, ear, cheek, chest and back. His left thumb was almost severed, and a collapsed lung almost killed him.
Uh... personally, I'm more curious as to how one gets a cement fetish? Wouldn't he like... die... if he was encased in it?
I'm pretty sure cement causes alkali skin burns so even if he didn't die, that would hurt right? I have so many questions, but I'm glad Steven is safe, despite all of his acquaintances now knowing he's sexually into cement.
Citations: HARDENED CRIMINALS Man with a bizarre CEMENT fetish is repeatedly stabbed with a machete and told he's going to be 'chopped up' after being lured to Renfrew flat (The Scottish Sun)