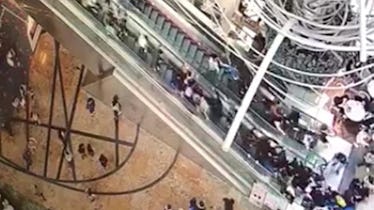 Crowded Escalator Speeds Up Then Reverses, Injures Riders In Horrifying Video
YouTube
You're walking through a crowded shopping mall as you approach a congested escalator. You have two options: take the stairs or hop on the escalator.
Normally, I'd personally choose the escalator. It's a no-brainer because I mean, why not? I'm at the mall, not gym class.
I just wouldn't do this.
However, after watching this video you're about to see, fuck escalators!
I'm pretty sure I'll be gladly opting for the stairs from now on without a single complaint (I promise).
Shoppers at Langham Place in China likely had the same exact thought process after the mall's escalator randomly sped up before jolting into reverse.
As you might imagine, the horrifying incident, which looked a lot like a human traffic jam, injured several injuries after riders tumbled uncontrollably.
The mishap resulted in the arrests of two mechanics, according to CNN.
The report states two mechanics ages 22 and 52 are facing obstruction charges after they were said to have performed maintenance on the escalators and are believed to have "tampered with" them in the process.
Otis Elevator Company spokesman Ian Fok spoke to reporters about the two employees, saying,
The arrest of our mechanics was a surprise. While the mechanics were assisting the EMSD, the agency called the police to have the mechanics arrested. Our legal team is working with law enforcement to clarify the situation and intends to defend our mechanics.
The dangerous escalator malfunction led to the injuries of 18 people. One man who is said to have sustained a head injury has been reported to be "in serious condition."
As of right now, authorities are still conducting an investigation of the matter to figure out exactly what went wrong.
See the moment an escalator packed with people began to speed up before suddenly reversing at a shopping mall in China.
Stairs don't seem like such a bad idea after all, huh?
Citations: Video Shows Shoppers Panic as Escalator Suddenly Speeds Up and Goes Into Reverse (Complex)