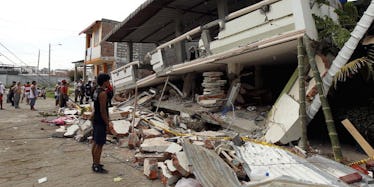 A Devastating 7.8 Magnitude Earthquake Hit Ecuador And Killed At Least 238
REUTERS/Guillermo Granja
A devastating 7.8 magnitude earthquake hit Ecuador on Saturday, killing hundreds and virtually flattening several small seaside towns.
The quake, Ecuador's biggest since 1987, hit the country's North Western coast on Saturday evening, destroying key infrastructure including bridges, roads and buildings. At least 1,500 people were injured in the catastrophe, and a confirmed 238 have been killed.
At least 233 people are confirmed dead in magnitude 7.8 #EcuadorEarthquake. https://t.co/ufT22dmZ1b pic.twitter.com/nZx8j4L0qK — Jim Roberts (@nycjim) April 17, 2016
Ecuador's president Rafael Correa was forced to cut short a visit to Rome to return to the South American nation. He has since declared a state of emergency in six of the country's 24 provinces.
In addition to the main quake, some areas experienced significant aftershocks. In the small town of Pedernales — arguably the hardest-hit area — geologists measured 135 aftershocks.
Locals told news crews,
Pedernales is destroyed.
Though the Pacific Tsunami Warning Center has declared there is no threat of a tsunami, officials are still urging residents to seek higher ground in case tides do rise.
The massive quake in Ecuador came just days after a series of earthquakes in Japan, which collectively killed 32 people and injured hundreds more. In response to the quakes in both Japan and Ecuador, Pope Francis called for support and prayers for the victims.
In a statement, he said,
Last night a violent earthquake hit Ecuador, causing numerous victims and great damages. Let's pray for those populations, and for those of Japan, where as well there has been some earthquakes in the last days. The help of God and the brothers give them strength and support.
Stay tuned for updates.
Citations: Massive Earthquake Strikes Ecuador Killing Hundreds (Huffington Post), Ecuador earthquake: Death toll jumps to 238; more than 1,500 wounded (CNN), Earthquake in Ecuador Kills More Than 230, President Says (NY Times), Japan earthquake: Rescuers in 'race against time' as storm hits (BBC)